Join 'La lucha de Abril' in the University Welcome Event of UCAM
You can receive your race number by registering to the solidarity online race to support Abril, a three-year-old girl who suffers from a neuromuscular degenerative disease WE EXTENDED THE DEADLINE FOR PARTICIPATION UNTIL SUNDAY 22 NOVEMBER!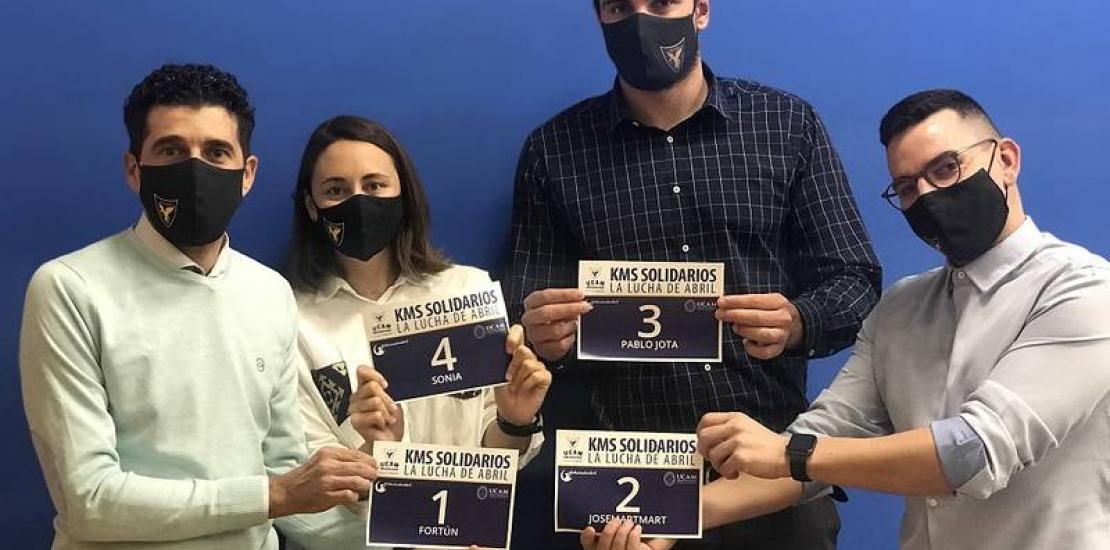 La lucha de Abril
Thu, 12/11/2020 - 15:56
In this new academic year, the University Welcome Event of UCAM will be characterised by solidarity, in collaboration with the project called 'La Lucha de Abril' [Abril's fight]. Abril is a cheerful four-year-old girl who suffers from Spastic Paraplegia 52, a degenerative neuromuscular disease of genetic origin, considered to be ultra-rare, which only affects eight children worldwide including Abril, who is the only person suffering from it in Spain. The disease has complex symptoms, among which the following stand out:
- Cognitive deficit
- Inability to speak
- Epileptic seizures
- Progressive lower limbs spasticity
Abril's family, in its search for a cure, found the Children's Hospital of Boston. In this hospital, there is an association called CureAP4, which is trying to find a cure or a medication to alleviate or revert the effects of the disease, but the cost of the study is of around 3 and 4 million dollars.
While trying to get the laboratories to collaborate in the study, the University Welcoming Event of UCAM will become an action with three aims to support Abril's cause. These aims are:
1. To collect funds for the project called @laluchadeabril.
2. To practice healthy sports supporting her cause.
3. To reach as many people as possible to generate, with a small solidarity gesture, a great help for Abril's life and her family.
For this reason, UCAM, in collaboration with 'Lucha de Abril', organised a virtual solidarity race to which any person, of any age, will be able to register from Thursday 22 October.
The standard registration price is of 2 euro, or of 5 euro for those who want to donate something more. All the money collected will be given to the project and donations can be done through the webpage www.alcanzatumeta.es.
The participants in the virtual solidarity race will obtain a race number in PDF format which they will be able to download and print. We would like to see the social networks filled with photos and selfies with the race numbers and accompanied by a nice message such as: "I participate and collaborate with @laluchadeabril. What about you? Will you join us?", with the hashtag #HolaUCAM.
The members of the staff of the UCAM Sport Service already participated with their photos:
There will be a PRIZE DRAWING for all those who are registered:
- 1 Official UCAM Tracksuit
- 5 Official UCAM Face-masks
- 3 Monthly passes for the UCAM Sports Center (to obtain it, it is required to make an Instagram publication and to follow the Instagram account of the USC: @ucamsportscenter_)
- 1 Xiaomi Mi Wireless Airdots  (you must upload a selfie with the race number to the App of the University, you can download it for iOS and Android devices)
- 1 UCAM Murcia C.B. T-Shirt signed by the entire team
- 1 UCAM Murcia C.F. T-Shirt signed by the entire team
- 1 Newline Thermal Cap
-  1 Dinner for two at La Boca Te Lía
Furthermore, if you want to actively participate, we invite you to carry out any type of physical activity (running, bike, static bike, canoeing, skating, etc.) and even to combine them, and to add the kilometres covered as a contribution. Take snapshots of the Apps, clocks, GPS, etc., and send them to us at the e-mail address deportes@ucam.edu or via WhatsApp to the phone number (+34) 616 49 55 18!
A link for the recording of the kilometres covered will be made available in this event's sheet as well as in the registration summary. However, we remind you that this is not compulsory and you can simply collaborate with your solidarity registration.
The registration deadline ends on Sunday 22 November. JOIN IN AND PARTICIPATE!