Brad Schoenfeld to arrive at UCAM to give class in 'Science and Development of Hypertrophy'
Brad Schoenfeld is an expert on Hypertrophy on an international level, having researched and published extensively in the area. On Friday, one of UCAM's master's degrees is expecting a lecture from him in his field of specialty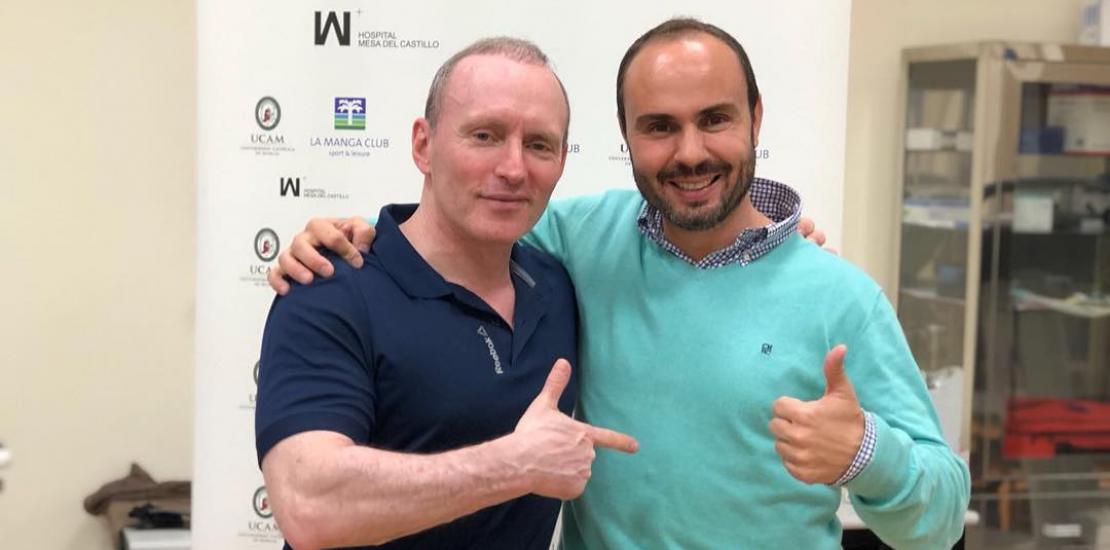 Brad Schoenfeld and Pedro E. Alcaraz, Director of the Master's in High Performance Sport in 2018
Wed, 27/03/2019 - 11:29
The publisher of many books on the subject of sports and training, such as 'The M.A.X. Muscle Plan', a book focused on muscle building and different kind of programs for this purpose, or the 'Strong and Sculpted' with special advice for women in the area of bodybuilding, is arriving to UCAM this coming Friday.
He will be giving a lecture called 'Science and Development of Hypertrophy' - a scientific term for the growth, or an increase in the size, of muscles. Schoenfeld, who has worked in this area for a lifetime, is a leading authority on Hypertrophy, with a PhD from Rocky Mountain University related to this specialty field of sports. He has numerous scientific publications, and an extensive background in bodybuilding, training and lecturing as a professor at different universities.
He will be received by a class of international students from many different nationalities in one of the Master's Degrees imparted at the Catholic University of Murcia, High Performance Sport: Strength and Conditioning. In this Master's Degree, Schoenfeld is among the many professionals that come and share their experience with the students on their area of specialty. According to the coordinator of the master's degree, Linda Chung, these experiences where these professionals from different areas of expertise come give lectures is an unique learning opportunity. "The students get an opportunity to meet these experts in person and learn from them directly, whereas in other situations they would normally read their scientific work from papers. Not only do they learn the theoretical foundations of a given topic but also how it can be practiced in real-life situations and to hear about the professor's own professional experiences", she declares.
For Dr. Brad Schoenfeld, this is not his first visit to UCAM. In 2014 he visited the university for the first time, when NSCA International Conference was hosted at the university's campus in Murcia. NSCA, The National Strength and Conditioning Association, is an international organisation for the support of strength and conditioning all over the world. One of their tasks is certification, the Master's in High Performance Sport at UCAM being one of the educational programs recognized officially by NSCA.