UCAM participated at NAFSA, the annual meeting of the most important universities in the world
More than 2000 Institutions from around the world have gathered from 27th May to 1st June in Philadelphia (USA) to participate to the annual NAFSA Conference, this year under the slogan "Diverse Voices, Shared Commitment".
15 June 2018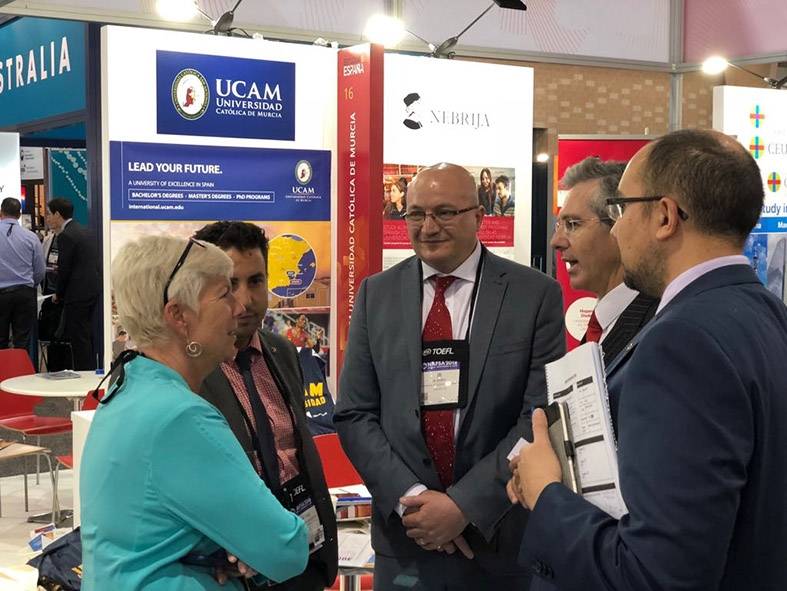 It is the fourth consecutive year that the Catholic University of Murcia participates at the event with a stand in the Spanish pavilion.
UCAM has been present at NAFSA, the most important International university conference, which has taken place this year in Philadelphia, Pennsylvania. These meetings are intended to get to know the main novelties and problems of the sector, and to arrange meetings and add new agreements with different universities around the world, in addition to renew existing collaborations.
Among the objectives of these agreements: student exchanges, joint degrees and scientific collaborations to open new International mobility opportunities to UCAM and foreign students.
UCAM has been represented by Pablo Blesa, Vice-rector of International Relations; José Luis Mendoza García, General Director of Institutional Relations; Samuel Mendoza, General Director of Infrastructures and Digital Development, TIC and Multimedia; Paul Chan, Head of Marketing and Institutional Relations for Asia and MENA; and Marco Bruno, Director of International Educational Projects and Executive secretary of the VRIC.