A bronze for history
The UCAM Murcia CB culminates its second season in Europe shining in the Final Four of the Basketball Champions League played in Athens
08 May 2018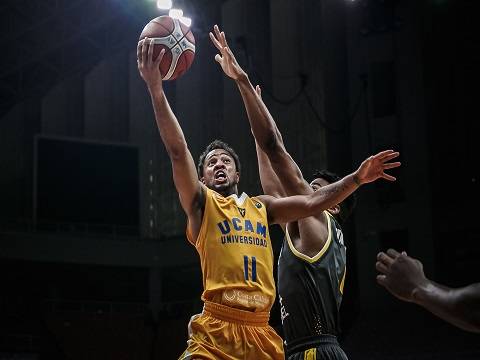 Europe already knows the Thirds of UCAM Murcia CB. For the second consecutive season, the university team has played European competition and this time it has gone further than anyone expected. In a spectacular campaign, the team of Ibon Navarro reached the Final Four of the Basketball Champions League, even touching the possibility of competing in the final.
After a group phase overcome without problems and two eliminatory matches in which the UCAM Murcia eliminated two of the favorites (Iberostar Tenerife and Pinar Karsiyaka) came the historic event: the Final Four of Athens.
The semifinal draw was not benevolent with the Murcian team since it assigned to the AEK, the host of the 'final four'. In a hellish atmosphere, with 20,000 spectators in the stands of the OAKA, the UCAM Murcia touched the glory of getting into the final. The Athenians, guided by the wind in favor, ended up taking the title in the final against Monaco, a great favorite of the competition.
In the fight for the bronze medal and without the environmental pressure against the UCAM Murcia made a great match against MHP Riesen of Germany. Sadiel Rojas, the best player of the UCAM during all the weekend, was the leader of the university team and the MVP of the match.
Once the F4 of Athens is over, it is time to asses the results and take into account how important it has been to reach the final round, a privilege reserved just to a few and the result of the great work done. The bronze of Athens is already in the record of a club that is definitely no longer a small team but it is now a feared club in the Endesa League and respected in Europe.
The Thirds close their campaign 2017/18 in Europe in which they have taken the name of Murcia to Greece, Turkey, Germany, Lithuania, Monaco, Italy, Israel and Russia and have set the bar very high. The European dreams for the next season go to the raise the cup and to conquer of the title. Will the time have come?