Application at UCAM: a checklist of documents
UCAM offers 30 Bachelor's Degrees (5 of them fully taught in English) and 52 Master's degrees (12 in English), to apply for these programmes students need to prepare some documents. Here is a quick checklist on the documents needed.
16 March 2018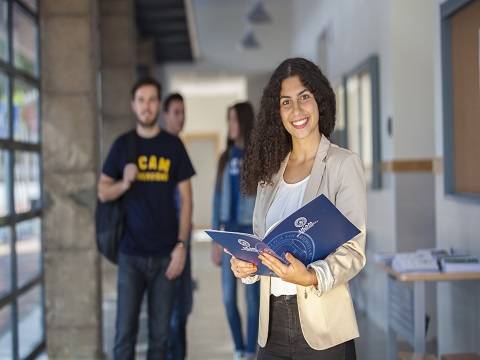 Bachelor's Degrees
If students conclude a High School in an European or non European country, they have to submit their application through the Spanish National University for Distance Education (UNED) as explained below:
- They will need to fill the online application form - solicitud de credencial – at UNED website.
- Append attested translated copies of the required documents: Passport, High School Academic Reports of the last three years, High School Diploma.
- They will receive the UNED Credential, giving legal access to the Bachelor Degree of UCAM.
The preferred option for access to UCAM Bachelor´s Degrees is via the UNED Credencial for students from outside of the Spanish education system.  However there does exist an alternative which is access via homologation.
In fact, Students who conclude a High School in a Country that is not a European member, can, in exceptional cases, apply having their high school studies (or equivalent) officially accredited (homologación). This is a process to carry out applying to the Ministry of Education and follow the indicated procedure to accredit their pre-university studies.
While students wait for their Credential or homologación to be delivered, they can start filling the Application Form and the Admission Request for a Bachelor Degree at UCAM, but this step can only be concluded after they get their Credential or homologación.
Students can enter here to create your personal account (without any commitment) and start the Admission request process. They will have to scan and attach some documents:
- Credential or Homologated documents and Selectividad marks
- Passport
- Photo
- Application Form (online)
- Motivational letter
- Prove of payment of Admission Request Fee
- Language certification
Master's Degree
If students have completed a Higher Education Degree, it's time to perfect their education  with a Master's Degree at UCAM. Documents to be scanned and sent to the Admissions office to start the admission process: Passport, Degree certificate, Transcript of Results, Motivation Letter, Language Certification and Curriculum Vitae.
Legalization/translation of documents - when required:
- Non-EU students: all degrees and transcripts from non-EU countries must firstly, be legalized by the Ministry of Education in the country from which the degree/transcript was issued (this can be done through the Hague Apostille when applicable, or the Convenio Andres Bello if applicable), and secondly by the Spanish Embassy.
- Degree Diplomas must be translated into Spanish by a sworn translator (but do not have to be legalized if they are from an educational establishment within the EU).
- All transcripts from EU and Non EU countries and in Spanish, English, Italian or French require no action.
All the documents to send are:
- 1 attested photocopy of the valid passport or DNI,
- 1 attested photocopy of the university degree (front and back) - duly legalized for Non Eu students. In the case of certificates issued in non-Spanish speaking countries, a sworn translation into Spanish of the document must also be attached,
- 1 simple photocopy of the Academic Certificate,
 - Photo ID size with white background.
- Signed and paid registration.
To know more about all the steps of the admission process visit this page.