The visitors of the Science Week will learn cardiopulmonary resuscitation techniques
The degrees related to the field of health of the Catholic University of Murcia will take science in the streets this weekend, in order to bring it closer to society.
05 November 2015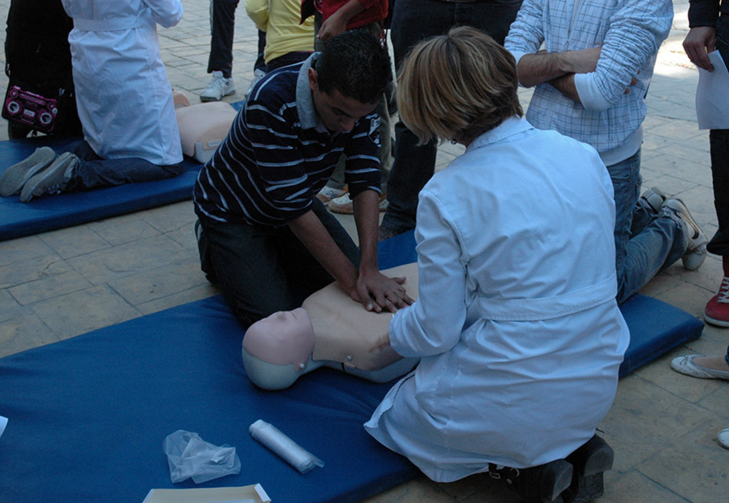 Bring science in the streets. This is the main objective of the Week of Science, that will be held from Friday to Sunday in the jardín del Malecón in Murcia and to which the Catholic University is actively taking part in, through more than twenty activities.
The different degrees related to the field of health will conduct various workshop, such as the one given by the Pharmacy Degree: visitors will be taught how to make an aloe vera moisturizing gel aloe vera hydrating gel they will take home.  From the Degree in Dentistry, people will learn the importance of dental care to prevent future diseases.
3D printers for biomaterials
Through a 3D printer, a new method of design and manufacture of biocompatible materials able to regenerate bone tissues will be displayed. Moreover, also in the area of Medicine, the participants of the Week of Science will have the opportunity to attend to a small class of cardiopulmonary resuscitation (CPR), where various manoeuvres will be held: chest compression, rescue breathing, unblocking respiratory ways from choking and use of a semi-automatic defibrillator with simulators.
2nd of Spain in Health and well being
In the area of health, it is worth highlighting that, according to a report carried out by the Everis Foundation after consultation with 2.000 entrepreneurs, UCAM is second highest rated University of Spain in the area of health and well being. Moreover, it is worth stressing out that the University is the national leader in the following competences:  honesty and ethic commitment,  teamwork and performance orientation