UCAM will transfer its teaching model as University of Sports to five European Universities
The Catholic University of Murcia will lead a project funded by the European Union to implement its teaching model which enables the dual career of athletes in UK, Greece, Malta and Italy
11 February 2015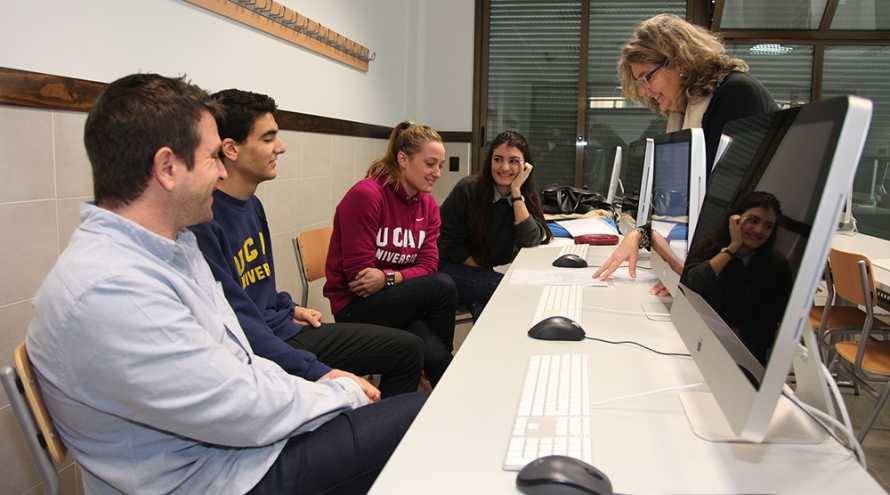 The Catholic University of Murcia has become a national and international pioneer as 'The University of Sport'.  This teaching model which was first conceived by UCAM's President and which has been used by the university since its foundation, focuses on supporting athletes so that they are able to combine their studies with their sport training and competitions.
 This model has caught the attention of some of the most important sporting institutions, which has culminated in the European Union awarding funding to a project led by the UCAM to pass this teaching model on to five other European universities.
The project, known as ESTPORT "European Sports Tutorship model for the dual career of athletes" will be developed over the course of thirty months with a budget of 390,000 euros. It will enable the insight and experience gained by the Catholic University of Murcia to be transmitted to representatives of five other universities: Panepistimio Thessalias (Greece), Universita ta Malta (Malta), Università degli Studi di Roma Foro Italico (Italy), Leeds Trinity University and EuroPartnership Foundation Limited (UK).
One of the key points of the project is to implement and transfer the mentoring program for athletes, known as 'Sport Tutorship'. The UCAM has gained enormous experience in this field as its student body includes many professional athletes who require a personal tutor to help guide them to achieve their academic goals.
The exchange of ideas and information between the universities involved will also enable the development of a "Sport Erasmus": whereby an UCAM athlete will be able to study and train abroad in one of their European partner universities. At the same time, UCAM hopes to receive exchange athletes from partner universities, who are willing to study a few months in Spain at the same time as improving their athletic performance.
In short, the UCAM will export its model to the other European Universities and it will enable athletes to combine their training and competitions with their studies, thus equipping them to enter into the workforce at the end of their sporting career.
 This experience will be published in a new book that will give a detailed insight into this project. Once the project is (estimated to be in mid-2017) an international conference will be held to present the results of this experience as well as of the parallel investigations that will be carried out.
A clear example of the achievements of this teaching model is reflected in race walker Juanma Molina (medallist at the Athens and Beijing Olympic games). Thanks to personalized tutoring he was able to continue studying for his Bachelor of Science in Physical Activity and Sports at UCAM and today he is a professor at the Faculty of Sport of the Catholic University. Other great athletes following in his footsteps are Miguel Ángel López (European Champion of 20 kilometers and student of Sports Science & Physical Activity), Mireia Belmonte (double Olympic medallist and student of Advertising and Public Relations), Juanfran Guevara (World Championship motorcycle racer and student of Administration and Management), Benjamin Sanchez (Olympic race walker and student of Sports Science and Physical Activity) or Alberto Martin (basketball player and student of Psychology).
These are just some examples of the more than fifty Olympians and elite sports teams of the UCAM who were able to continue their studies as part of a teaching model that has justly attracted attention of the European Institutions and will now be developed, improved and implemented in universities overseas.