UCAM students debate alongside other European students about youth politics
The initiative belongs to the "Erasmus Program+:Youth in Action" which also includes participants from France, Italy, Germany, Greece, Sweden and Lithuania. 24th October 2014
10 November 2014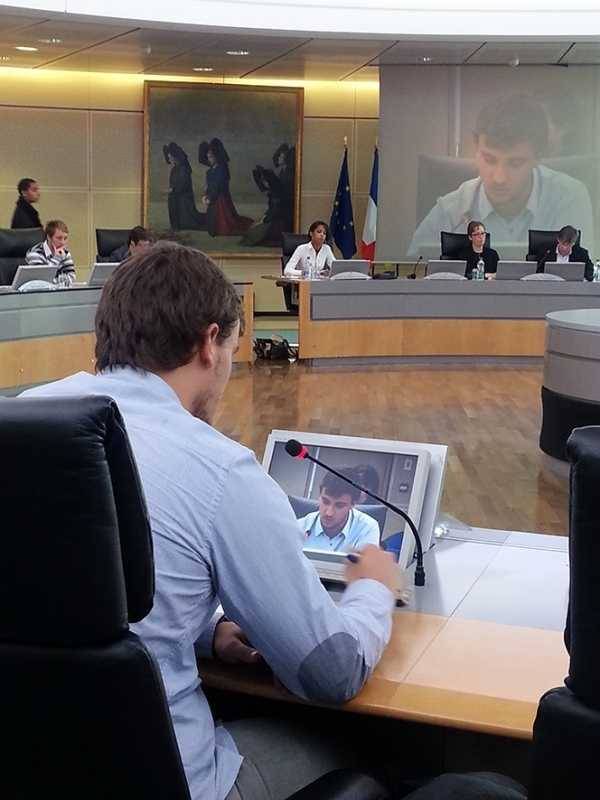 Office of International Affairs- UCAM
The Catholic University of Murcia (through its Office of International Affairs), is participating in various European projects in which students and professors analyze and debate topics related to youth politics, education and citizenship.
The vice-dean of the Department of Audiovisual Communication at the UCAM, Isabel Sarabia, alongside seven of her students (Agustin Pinar, Ignacio Lucas, Nuria Lledó, Alba Periago, Adriana Mullor, Marta Garcia y Pedro Fernández), participated in a meeting in Mulhouse (France) with youth from across Europe. They debated current topics which are especially relevant to this age group, such as employment, civil engagement, human rights and sustainable development.
The mission statement of this meeting was: 'For an aware, active and creative youth'. The event forms part of the agenda of "Erasmus Program+:Youth in Action" in which other countries such as France, Italy, Poland, Germany, Greece, Sweden and Lithuania also participated. This project creates dialogue between people from different parts of Europe, which allows for an Exchange of experiences and points of view. The different working groups presented their conclusions to European political representatives in the European parliament of Strasbourg, in Alsacia (France).
For Isabel Sarabia this meeting between students from many countries signifies an important cultural Exchange: "Students have the opportunity not only to make their voices heard on topics which are relevant to them, but also to understand the opinions of other students about these topics".
The aim of the program is to promote the active participation of young people in politics and in the democratic world, giving them the opportunity to debate current political themes which affect them.
Participating in these type of activities means the UCAM can have a presence in the heart of the politics that affect its students, the youth of the region and the country. The vice-dean of the Department of Audiovisual Communication stated that "Our involvement in this activity reaffirms once again the international character of our university and its vocation in cooperating with European Institutions and in society as a whole".