UCAM shines at the National Gala of Sports
Olympic athletes Mireia Belmonte, Miguel Ángel López, Jennifer Pareja and Dr. Pedro Guillén, all linked to UCAM, received their awards at the National Sports gala held at Sports center La Nucía, Murcia this week.
06 March 2015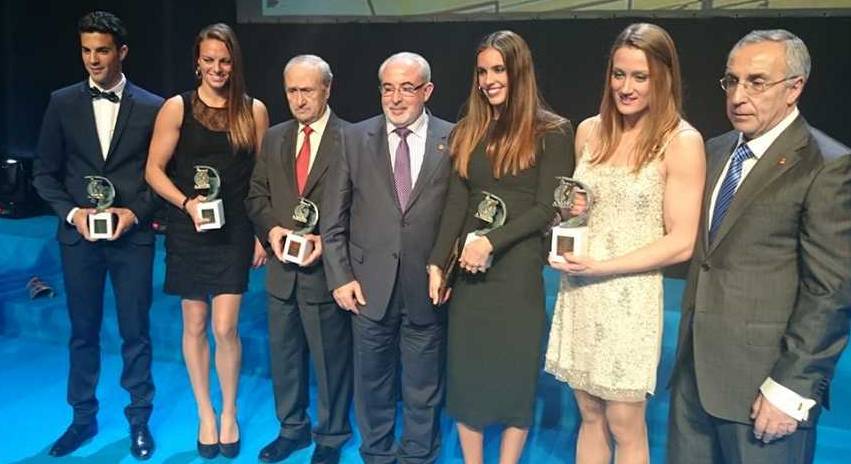 The XXXV National Gala of Sports organized by the Spanish Association of Sporting Press, brought together the most outstanding Spanish athletes of 2015. 
As in previous years San Antonio Catholic University of Murcia played a special role. Athletes Mireia Belmonte, Miguel Ángel López and Jennifer Pareja and Dr. Pedro Guillén, all linked to UCAM, were presented with awards at this prestigious event.
Miguel Ángel López, Olympic athletics competitor and student of the Bachelor of Sports Science and Physical Activity at UCAM, was awarded at the gala in honor of his gold medal in the 20km walk at the European Athletics Championships last summer in Zurich. Moreover, Michelangelo was also present at La Nucía as the new Spanish champion in the 35 kilometers race held in Jumilla.
Mireia Belmonte, student of the Bachelor in Advertising and Public Relations at UCAM, received the award of Spanish athlete of the year. With her six medals at the European Swimming Championships held in Berlin, and her continued success, (gaining medals at the World Cup and World Championship and beating several world records) Mireia remains the undisputed queen of Spanish women's sport.
Jennifer Pareja, student of the Comprehensive Training Course at UCAM, has been rewarded alongside her water polo national team members for winning the European Championship. Dr. Pedro Guillén, Honorary Dean of the UCAM Degree in Medicine, and Professor and Director of the UCAM Department of Sports Traumatology, was also awarded for his professional achievements. Dr. Guillén was overcome with emotion when receiving the award from UCAM President, José Luis Mendoza.
Other athletes prized at the gala included Marc and Álex Márquez for their motorcycling world titles, the Real Madrid team for their tenth European Cup win, Carolina Marin (badminton world champion), Lidia Valentín (weightlifting European champion), Eva Calvo (taekwondo European champion), Ona Carbonell (European synchronized swimming champion), Laia Sanz (motorcycling world champion), Tito Rabat (Moto2 World Champion), Alejandro Valverde (UCI ProTour champion), David Muntaner and Albert Torres (track cycling world champions), Alfonso Cabello (Paralympic cycling world champion), the CN Atlétic Barceloneta team (Men's European water polo champions), CN Sabadell (women's water polo European champions); the rhythmic gymnastics women's teams (World Champions), Movistar Team (2014 best cycling team), Atletico Madrid (champions of the league), Sevilla (winners of the Europa League) and former player of Barcelona football Juan Manuel Asensi who received the Legend Award.