The UCAM participated in the EAIE, the most important university fair in Europe
This event, that brings together hundreds of universities, has been held in the Swiss city of Geneva.
18 September 2018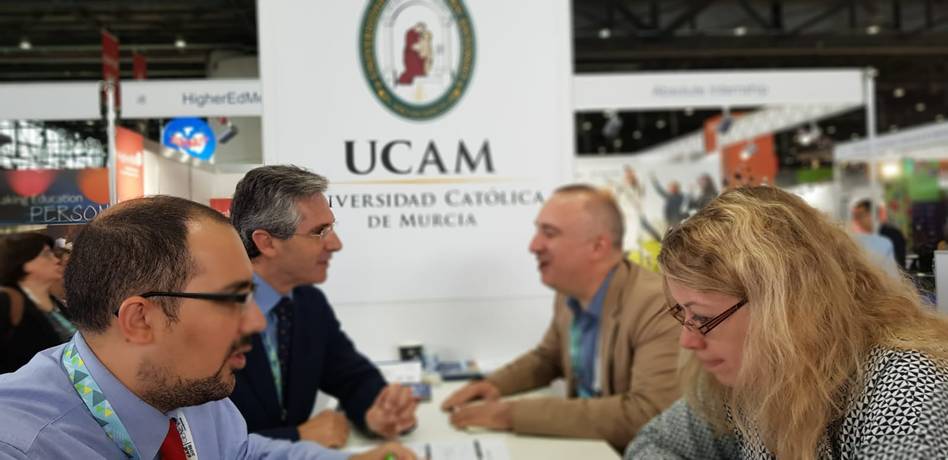 The Catholic University of Murcia continues its commitment to internationalization with its participation in the European Association for International Education (EAIE), which took place in Geneva.
Its purpose is to gather together universities around the world with the aim of sharing their international training offer. It is a way to carry out exchange agreements, joint programs or double degrees between different universities.
UCAM was represented by José Luis Mendoza García, General Director of Institutional Relations, Pablo Blesa, Vice-rector of International Relations and Communication, "Paul" Wei Ti Chan, Head of Marketing for Asia and MENA, Marco Bruno, Director of International Educational Projects, and Miguel Ángel Martí, director of International Marketing.
"UCAM has 340 partners in the world, this type of meetings makes it much easier for this collaborations to continue and helps to establish new agreements" explained Blesa. He also added that "we have been able to close agreements such as the promotion of summer courses, executive courses, double degrees, exchange agreements and joint doctoral programs, among others."
"In short, the objective of the University is to make Murcia and the UCAM an International educational reference", concluded Martí.