UCAM Murcia CB at the final four
The Murcian team plays for the first time in its history a European Final Four. The competition is held in Athens (4-6 May) and the rivals will be AEK (Greece), AS Monaco (Monaco) and MHP Riesen Ludwigsburg (Germany)
04 May 2018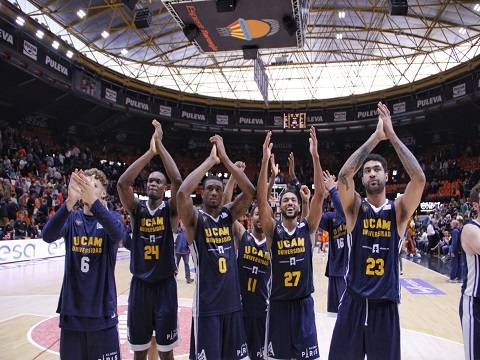 This weekend (4-6 May), the UCAM Murcia CB seeks its first European Championship title in the Final Four of the Basketball Champions League that takes place in Athens, Greece. The Murcian team reaches the final round after a brilliant participation in which he had no problems to overcome the group stage and to eliminate two of the big favorites: Iberostar Tenerife (in force champion) and Pinar Karsiyaka (Turkey).
The team, trained by Ibon Navarro, has based its success on the talent of players like Clevin Hannah, Brad Oleson and Vitor Benite, the physical power of Sadiel Rojas, Augusto Lima, Charllo Kloof and Kevin Tumba and the valuable contributions of players like Marcos Delía, Alex Urtasun and Alberto Martín.
All this, together with a defense that at times has touched the perfection, have led to a great European season and now the team is only two games away to lift the cup. It will not be easy. The first obstacle is the host of this Final Four, the AEK of Athens (May 4 - 8:30 pm).
The OAKA Hall, with capacity for around 20,000 spectators, will roar to impress the Spanish team and close the way to the grand final. The other semifinal is played by AS Monaco and MHP Riesen Ludwigsburg, with the Monegasques as big favorites.
For the UCAM Murcia, it is a new experience since it is the first time that arrives in a European 'Final to four', achieving this result in its second year of playing at international level. A success already in itself that the team wants to complete conquering the title and 'retaining' it in Spain, since the current champion is Tenerife.