The UCAM Murcia CB enters the Final Four of the Basketball Champions League
For the first time in its history, the Murcian team will play the final round of a European competition
05 April 2018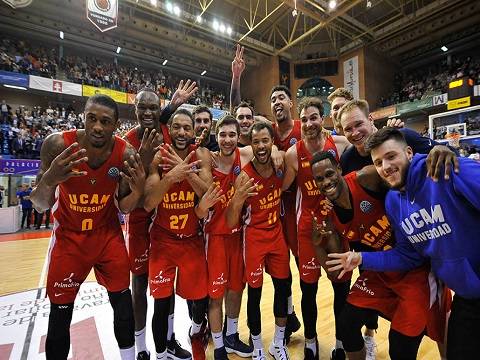 The UCAM Murcia CB continues to make history by qualifying for the Final Four of the Basketball Champions League. In its second consecutive year competing in European competitions, the club, which belongs to the Catholic University of Murcia, has managed to reach the final round and be in a position to win its first International title. The road to arrive at this point has not been easy, the team, coached by Ibon Navarro, had to win the current champion (Iberostar Tenerife) and Pinar Karsiyaka from Turkey, one of the favorites.
The Sports Palace of Murcia recorded one of the biggest entries of the season with more than 7,000 spectators who enjoyed a match full of intensity and emotion. The Murcian team arrived at this meeting with 14 points obtained against the Turkish team but still there were moments of uncertainty. But this UCAM Murcia CB knows how to compete and imposed its iron defense. The fans were aware that it was a historic day and with the tranquility of points achieved in Turkey, the final minutes of the game were a party for the Spanish team that took the victory (81-72).
Once achieved the pass to the Final Four of the Basketball Champions League, it is time to look at the final round to be played from the 4th to 6th May at a venue yet to be determined. Whith the UCAM Murcia CB there will be: AS Monaco Basket (Monaco), MHP Riesen Ludwigsburg (Germany) and AEK Athens (Greece). The Monegasque team reaches the semifinals as the big favorite although it is a final phase with single-match eliminations, the margin for surprises is wide and any of the four semifinalists is a candidate for the title.
The UCAM Murcia will try to assert its identity that has allowed it to go so far: orderly and disciplined defense, physical game in attack and maximum union to achieve the common goal. Once in the Final Four, the university team wants to take the next step (to reach the final) and the next one (to achieve the title). A club, a university, a city and a Region, all united to achieve this goal.