TRAVELING TIPS FOR A CHEAP EUROPEAN TRIP
Traveling over ten countries in Europe may cost less than 4000E
07 April 2016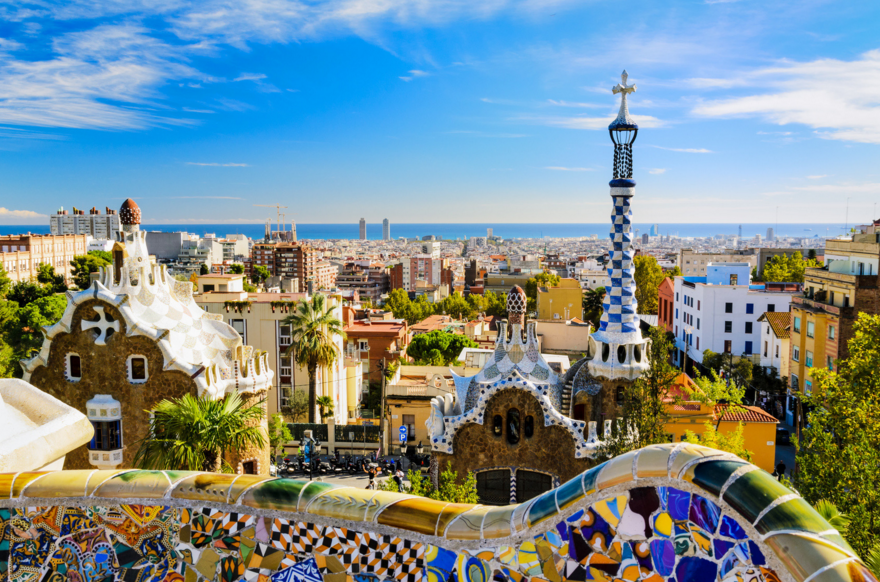 The spring in Spain, known as one of the most beautiful season of the year has just begun. Also, it becomes warmer and flowers blossom in many parts of Europe which make it the best time to travel, especially for the students. As having much and flexible free time, students can take advantage of their breaks, even 3 days on weekend to visit new places. Some of traveling tips as following may help to save cost for your next Europe trips.  
1. TRANSPORTATION
1.1. FLIGHT TICKET BOOKING
- LOOKING THROUGH THE WEBSITES: Determine your route and go through some statistics website such as momondo.es, skyscanner.com ( or download app for your phone). They have a list of airlines with different prices. You can select your best airline then go directly to its webpage to book tickets.
- CHEAP PRICE AIRLINE: Usually, the best discount airline  is Ryanair. Other discount  airlines with many european destinations are  Easyjet, Vueling ( mostly for Spain domestics flight), and Norwegianair. Norwegianair is a reasonable choice for traveling the Nordic región.
- DO NOT BE AFRAID TO MOVE: an international airports, sometimes far from the city you live,  do not be afraid to go from there because there will be more cheaper flights. E.g:  Alicante airport (70km far from Murcia) is often more expensive to get to other cities, so it is better to catch the bus (costs a few euros) to the Valencia airport (200km far) to have a cheaper flight.
- HAVE A GOOD ROUTINE: You should choose countries that are near to each other to travel to on the same trip  (pick 1 place, fly there and choose another to fly back from ). Do not be afraid to use public  transit or sleep in the airport to get a good fare.
For example: In order to stay 2 days on Santorini island, it may take you 2 additional  days with a total of 6 flights from Spain (Valencia-Rome-Athens-Santorini-Athens-Rome-Alicante) but costs 120E  only (book tickets 3 months in advance).
1.2. OTHER TRANSPORTATIONS
- LOW PRICE BUS - You can go to the site BUSBUD.COM to have price comparison among bus brands. Some good bus companies are Eurolines, Flixbus, and  Megabus. It has 8E fare that  goes from Paris to Brussels. In Spain, Alsa bus is your best choice.
- TRAIN - In Spain, you can travel by Renfe. In the major cities in any countries, the Metro is a perfect option. However, prices and rules are different in every country so you should research it first. For example, Metro in Brussels (2E/ time), you can change lines, gates in 1 hour  for free, however in Paris (1.8eu / time), every time you change into another line or entrance, it will charge  you 1.8E for each additional time.
- BLABLA CAR - This is precisely the most convenient transportation. Its price is cheaper than the train and bus when  you book 1-2 days in advance. The advantage is that you can ask the driver to pick you where you want. However, there is also a risk that in some cases the driver does not come and you will miss your trip, though you still can get refund. Such cases are very rare.  You should read information of driver on the website before booking. You should look for things such as, is it his first time driving, what kind of car, view customer comments, see his facebook ... to have your best overall experience.
 2. ACCOMODATION
- COUCHSURFING - is the most economical way to stay, as it is considered as a homestay. It is good way for you to stay on a long vacation and want to learn about culture from a native's perspective. It is free but if you are a girl, it can be unsafe to  some extent.
- DORM - In Spain, the price of a bed in a  dorm costs around 10E/night including breakfast. It is even cheaper in a few Eastern European countries (Czech Republic, Poland, Hungary ...). It is more expensive in Northern Europe, with an average price of 20E/ night. Booking.com site is where you can book without paying in advance.
- AIRBNB - If you travel in a group, you can choose to rent a private room or a whole flat through Airbnb.com. For example: it takes you 80 - 85eu/night to book a room in a 3 star hotel in Barcelona but just costs you 35-50 eu/night with a room in an AIRBNB located in the same area.
3. CHEAP FOOD
- CARRY FOOD ITEMS ALONG: instant noodles, bread, pate, fruit and some snacks and water are needed to carry as you get hungry very quickly in your trip when walking all the day
- BUY IN SUPERMARKET: hotel in Europe often includes the kitchen so you can buy food in the supermarket to cook. You should eat fast food in a few meals (McDonald, KFC ...) instead if you like to change the taste.
- LOCAL FOOD: During each trip, you should spend at least one meal for enjoying special or famous dishes in the local destination. Some typical food  French bread, Italian pasta, Vietnamese Pho in Paris and Prague, Spanish Paella (the most delicious in Valencia) are highly recommended
4. TRAVEL PLAN IN TYPICAL PLACE
- SMALL CITIES. You may have to walk 10-15km/day in  approximately 1 - 2 days
- BIG CITIES. You may use public transportations such as Metro, bus, train, tram ... by using map through apps in your phone. When to where they buy the pass ( 1-3 days depending on location, price also ranges from 5-9E / day only) that can go comfortably all means.
- SUBURBAN PLACES such as ski resorts, ancient village (often located far away from big cities), it is best to book online train tickets or bus tickets in advance. Search places to visit in TripAdvisor or Triposo app. You should download this offline app before traveling so you can see all information if you dont have wifi. Maps.me is the app for showing your direction.
5. ITEMS TO CARRY
- Camera
- Good walking shoes
- Medicine, sunscreen, moisturizer, hat, umbrella. On the long trips, you should carry Vitamin C and tonics for daily drinks.
Every city will deliver a different experience but following these steps will help reduce the overall cost.