Ten good reasons to study at UCAM
Located in Murcia, Spain, with a Campus of more than 16,000 students and around 1,000 professors, UCAM is expanding worldwide to promote a high-quality university education. There are many reasons to choose UCAM, here we listed ten of them.
07 February 2018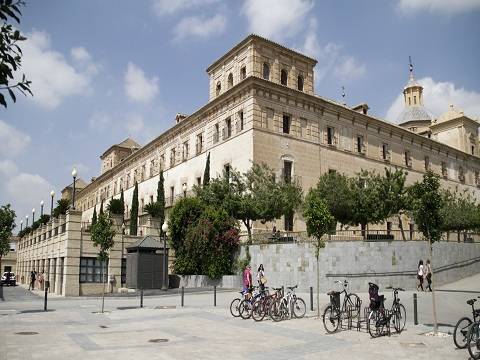 UCAM has a

diverse academic offer, constantly adapting to the real needs of society. It offers 30 Official Undergraduate Programmes (5 of which fully taught in English) and 52 Official Master's Studies (10 of which fully taught in English) .
UCAM was one of the first universities to adapt its programs to the European Quality System for Education following the Bologna Process.

UCAM has around

200 renowned international strategic partners, including leading colleges and universities in the world, such as UC Berkeley, Stanford, NTU, NUS or Università degli Studi di Bologna. With these partners, UCAM develops student, staff and professor exchange programs, dual degrees and other collaborations.

UCAM students are

strongly linked to the working world through study plans adapted to market demands, mandatory internships in public or private institutions in every program & research program in collaboration with large regional, national & multinational companies.

UCAM offers an education based on

personalized attention that caters to students' needs. Each class has a small number of students and each student has a personal tutor. UCAM also offers a modern system of distance teaching.
UCAM has a rich cultural and historical campus environment. Its main campus is at the Jerónimos Monastery (XVIII century National Monument).
As a Catholic institution, UCAM aims to provide a holistic education for students not only in terms of academic knowledge but also in human values through volunteering activities, congresses, seminars, research projects and religious services.
UCAM is recognized as the University of Sports in Spain. It is the only European university which has a professional basketball team in the top national league (Liga Endesa) competing with more than 20 other professional teams. In the Spanish inter-university sports competition, UCAM won 121 medals (73 gold) and was hailed the 2017 Champion after competing in 21 disciplines involving more than 2,000 university athletes. In the Olympic Games Rio 2016, more than 60 UCAM athletes participated and won 15 Olympic medals and 9 Paralympic medals.
UCAM's Campus de Los Jeronimos is located in Murcia - the capital city of the southeastern region of Spain. The Mediterranean weather joins the natural beauties of the beaches of Costa Cálida with the mountains and fields of the Huerta de Europa.
UCAM offers to its students excellent facilities to learn practical skills: students can find bright and wide classrooms, a library, auditoriums, meeting and work offices, freely accessible computers, multimedia and language facilities, two canteens as well as labs, television, and radio studio. Also, the Anatomy Room, Dissecting Room, Food Laboratory, Construction Lab, Microscopes Room, Robotics Room, Hospital Simulation Room, Physiotherapy Room, MAC Room,Scanning Electron Microscope, Anatomic digital table, Energy Efficiency Building and much more.