The Symphonic Orchestra of UCAM presents its new program
Noelia Arroyo, Culture Director of the Autonomous Community of Murcia, highlighted the great work done by the University Orchestra
29 October 2015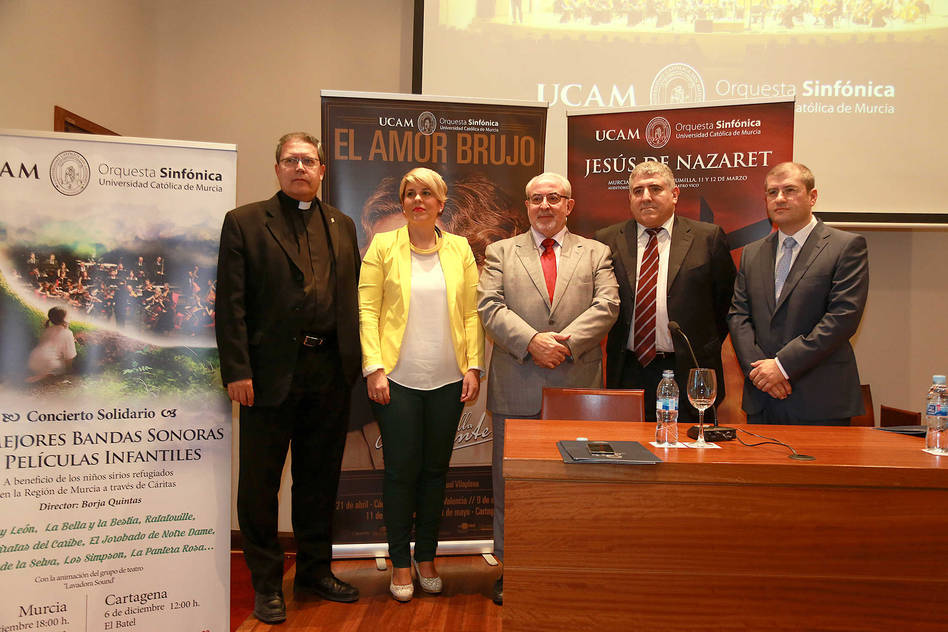 The program of the Symphonic Orchestra of the Catholic University of Murcia has been presented this week at the Royal Casino of Murcia. In the act intervened UCAM's president, José Luis Mendoza; the Culture director, Noelia Arroyo; the responsible of the music area of the University, Luis Emilio Pascual; the coordinator of the school orchestras network, Ángel Luis Carrillo; and the manager of the Symphonic Orchestra, Eugenio Santos.
The director of Culture highlighted the importance of classical music in the Region, stressing that "in three years of life, UCAM's Symphonic Orchestra managed to play on the best national scenes". She also highlighted that "the formative and artistic labour of the orchestra guarantees the reserve of young musicians in the Region".
UCAM's president, José Luis Mendoza, presented the concerts, especially highlighting the sacred drama Jesus of Nazareth "an own production that will be performed in Murcia". He also stressed the tour of Estrella Morente, which will take place in various Spanish cities, and the creation of UCAM's Youth Orchestra, born with a strictly educational and solidary character.  Mendoza also ensured that "the vocation of solidarity service of the Orchestra will be maintained, like every year, with two concerts: one in Murcia and one in Cartagena".
Another of the most important news of the press conference, announced by Eugenio Santos, manager of the Orchestra, is the performance of the University Symphonic on the 2nd of January in the National Auditorium of Madrid. And as novelty, a collaboration between the Regional Filmoteca of Murcia and the Orchestra has been announced: they will realise a program of music and cinema dedicated to Buster Keaton in which they will play the soundtrack of the movies of the said-actor. Eugenio Santos thanked the implication of the minister in the entire program of the Orchestra, stressing out the importance of having support from the civil service, which encourage continuing the work in that direction.
Luis Emilio Pascual, responsible of the music area of the University, announced that "this year, solidary concerts will be organized for children, and the takings will be dedicated to help Syrian refuged children living in the Region" He also commented on the disaffection of the region regarding classical music, which led to a program more aimed at musical shows.
Ángel Luis Carrillo, director of the Coral Discantus, did an overview of the work done last year by the students of the network of school orchestras managed by UCAM, as this project has seen the number of students drastically increasing in three years of life. He also announced the date of the concert performed by children every year: December 15 at the Convent of the Anas.