Students from 70 countries studied at UCAM last year
Los Jeronimos is, during the whole year, an international campus where students from China, India, United States, Colombia, Kazakhstan, Russia, Kenya or Germany live together
10 August 2015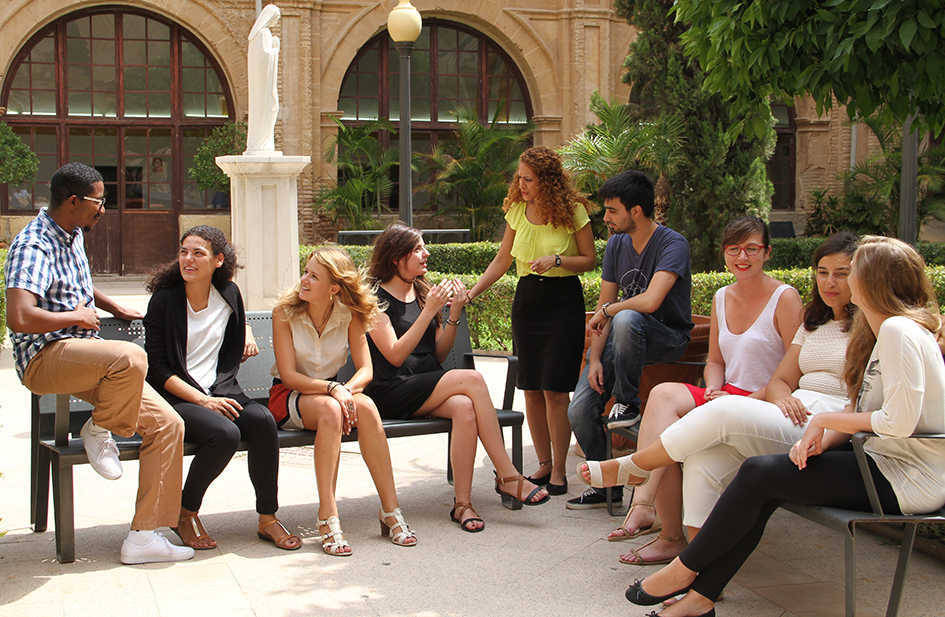 UCAM characterizes itself, from its inception, by a high educational and investigational level, which enables it to constantly grow and to cross frontiers; the best proof of this is the constant growth of international students. Every year, youths from all over the world choose to complete their studies at UCAM, which has established agreements with more than 250 institutions, including universities from more than 100 countries such as UC Berkeley (USA), Stanford, NUS (National University of Singapore), PUC-Rio Grande do Sul (Brazil), and Università degli Studi di Bologna (Italy).
Learning in other languages
The Catholic University of Murcia counts with five Master's Degrees entirely imparted in English in its Catalogue of Studies, four of them officially recognized by the National Agency for Quality and Accreditation Evaluation (ANECA): Master in Business Administration, MBA Sports Management, Innovation and Tourism Marketing, and High Performance Sport: Strength and Conditioning; and one proper degree in European Studies and Human Rights. It is worth remembering that, given the quality of these degrees, they are already fully subscribed for the 2015/2016 academic year, exclusively with international students coming from the five continents.
During this academic year, as a result of international mobility agreements, more than 300 exchange students pursued their studies at UCAM through renowned programs such as Erasmus, Overseas and Iberoamerica; along with them, we can add the 961 students of Australia, China, India, United States or Norway and 70 nationalities that subscribed to Bachelor's Degrees or Master's Degrees at UCAM, aiming to obtain an official Spanish degree. To these exchange scholars or international students enrolled, we can further count 338 more, following Spanish classes for Foreigners imparted by UCAM's Superior School of Languages.
In total, international students represent more than 10% of the student body at UCAM, contributing to the establishment of a global Campus. Pablo Blesa, vice rector of International Relations, highlights that "international students bring a more dynamic classroom debate and act as example to Spanish students, showing them the importance and the virtues of mobility for the formation or the improvement of employability as well as for the personal, cultural and intellectual enrichment".
Open to the world
International agreements not only allow other students to come and study at UCAM, but also enable scholars from the University to complete their formation in other institutions: an unforgettable academic, personal and professional exprience, as statistics show.
It is also worth pointing out that UCAM has settled a wide range of headquarters and formation centres in Indonesia, Singapore, China, India, Romania, Russia, Uruguay and United Arab Emirates, among others. Moreover, the University's will to grow out of the Spanish frontiers contributes to improve the Region's image as an attractive destination to study and live, boosting its touristic economy.