The St. Anthony Foundation acquires the Neapolitan Nativity scene from the Salzillo Museum
With the acquisition of this work of art, it has become the most important Nativity museum in the world.
27 November 2014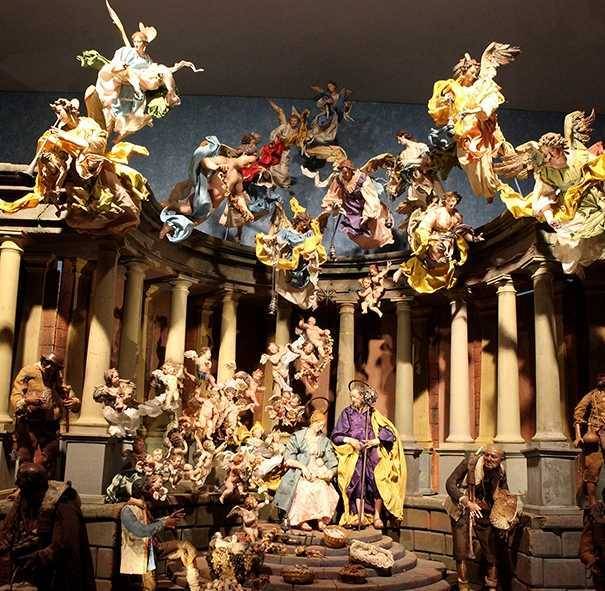 The St Anthony University Foundation, tenure of UCAM, announced its acquisition of the 18th century Neapolitan Nativity Scene, considered by many experts in this field as one of the best in the world. 
The president of the UCAM, José Luis Mendoza, assured that with this nativity scene the Salzillo Museum had become the most important nativity museum in the world. Mendoza added that this was "a contribution on behalf of the university to collaborate in the field of Murcia's culture", as well as :a means to evangelize".
The director of the Salzillo Museo, Antonio Gómez Fayré, showed his content at the fact that this great piece of work was remaining in Murcia, and gave a special thanks to UCAM and to Carmelo García de Castro, owner of the nativity scene for his "decision to preserve and invest in culture".
The act of presentation was also attended by the Minister of Education, Culture and Universities, Pedro Antonio Sánchez, who also wanted to show his gratitude to the University and to Mr García de Castro, because "we have managed to keep this work of cultural heritage here and with this we are becoming part of the history of Murcia's culture". In this way "we are working towards Murcia becoming a global capital of culture".
Mr García de Castro explained that "it is an honour for me that this nativity scene will remain in Murcia. I am extremely happy about this,and would like to thank the people of Murcia for their close collaboration with my family".
The Cultural Adviser for the Council of Murcia, rafael Gomez, highlighted the "importance of preserving this magnificent piece of culture"
María Teresa Marí, director of the Salzillo Museum, was also present at this presentation.
Neapolitan Nativity scene dates back to the 18th century
This sculpture is composed of 600 pieces (some of them large in size) and considered by experts in this field as the most important collection in Spain, and among the most renown in the world, alongside the "Certosa de Sanmartino" in Naples and the Nativity found in the Bavarian national Museum in Munich
The figures and parts have been collected throughout a lifetime dedicated to collectables by the García de Castro brothers, Carmelo and Emilio, the latter of whom passed away last February.
Some of the pieces are derived from the house of Bourbon and the personal collection of Charles III , and it is composed of famous sculptures such as the "Naked Blindman", a work of art by the most important Neapolitan sculptor of the 18th century, Giuseppe Sanmartino.