Nine athletes from UCAM won 11 of the 17 Spanish team medals in Rio 16
José Luis Mendoza: "Our relationship with the COE was instrumental in helping athletes"
08 September 2016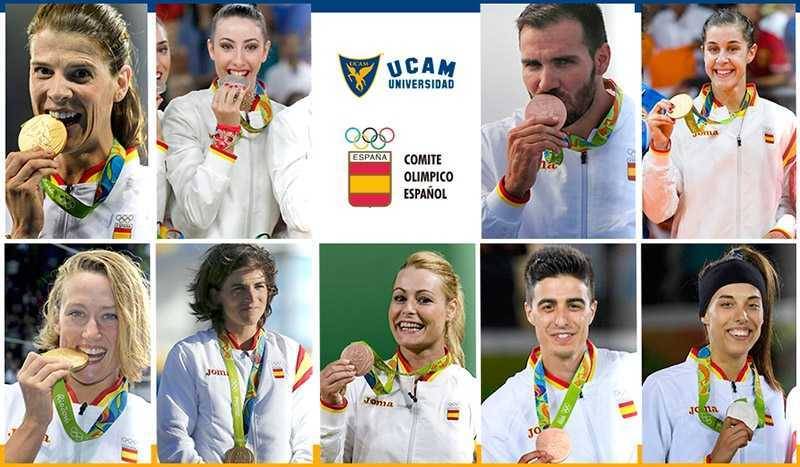 With the end of the Olympic Games in Rio 16, comes time to take stock for Spanish sport. The 17 medals (7 gold, 4 silver and 6 bronze) represent the best outcome for Spain since Barcelona 92.  The Spanish team managed to earn 5 gold medals in both Athens and Beijing Olympics and 3 gold medals in the London Olympics.
This Olympics leaves a sweet taste of victory for the Spanish Olympic Committee as in the last four years as the Catholic University of Murcia (UCAM) stepped in. UCAM's unique sports model of education has enabled hundreds of athletes combine their education and their chosen discipline.
As a result, 55 athletes from the Catholic University of Murcia were part of the Spanish team and nine of them managed to bring eleven of the seventeen medals for Spain in Rio: Mireia Belmonte (gold and bronze in swimming); Saul Craviotto (gold and bronze medals in canoeing); Carolina Marin (gold in badminton); Maialen Chourraut (gold in whitewater canoeing); Ruth Beitia (athletics gold); Eva Calvo (silver in taekwondo); Artemi Gavezou (silver in Rhythmic Gymnastics with the Spanish team); Lidia Valentin (bronze in weightlifting); and Joel Gonzalez (bronze in taekwondo).
"It is a fact unprecedented 17 medals Spain, eleven of them are sponsored athletes by UCAM. It is a great achievement for us!" José Luis Mendoza, president of UCAM, who was in the Olympics during the first week of competition said.
The model of supporting UCAM Olympians is twofold, as recalled by Mendoza: "First is for those athletes who are studying in the University and second is for those athletes who are sponsored by the university. UCAM fulfills a dual function, to economically support them during their training and to provide them with good education despite of their busy schedules.
UCAM's sport model of training through a system of mentoring to athletes has attracted attention worldwide.  The European Union has funded a project to translate what is done in the UCAM to other universities in the UK, Italy, Greece and Malta.  Many countries outside EU also expressed their interest to mirror the success of the model such as China and Japan.
As the results have become visible in the recent years, José Luis Mendoza highlighted the key role of president of the Spanish Olympic Committee, Alejandro Blanco: "The connection between the UCAM and the COE has been instrumental in carrying out our work of to serve, sponsor and help athletes"
But beyond the Olympic sport and athletes that fill the headlines, José Luis Mendoza takes this achievement as a good step and a model to the young generation: "We need to promote university sports which practically did not exist in Spain before UCAM. This will give rise to our future athletes who will go to the different competitions waving the flag of Spain.  We do not only sponsors Olympians but we also promote grassroots sport with thousands of young people and  athletes. Who knows? Maybe someday other Olympians and champions in different disciplines will arise from this model."