Mario Mola, new world champion
• UCAM Triathlete and Law Degree student won the title in dramatic finish. His main rival Jonathan Brownlee crossed the finish line with the help of his brother, Alistair.
• Fernando Alarza, also an UCAM Triathlete and a Psychology student finished in Third place in the World Series
23 September 2016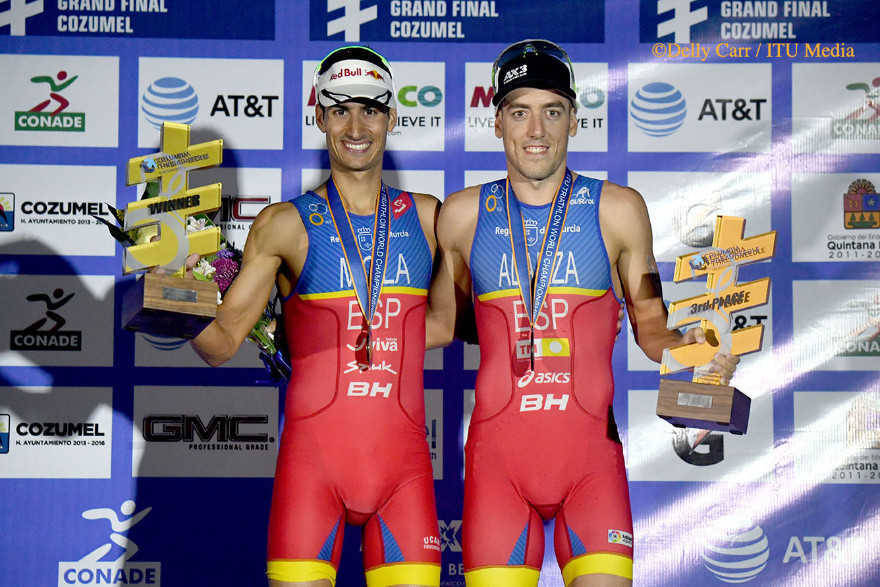 The triathlete of the Catholic University of Murcia (UCAM), Mario Mola, student of Bachelors Degree in Law at the university won the World Triathlon Series season title after finishing fifth in the final triathlon race of season in Cozumel, Mexico. The excitement continued until the end as his main rival, Britain's Jonathan Brownlee, leading the race until the last kilometer and whose victory would have forced Mola into third, fought to retain the lead and be the champion.
400 meters before the finish line, Brownlee was about to collapse and on the point of retiring from the race when his brother, Alistair a few meters behind, grabbed him and practically dragged him to the finish line and helped him finish second after South African Henri Shoeman took advantage of the situation and went on ahead to win the race. The second position of Brownlee, increased the chance of Mola to finish fifth and be proclaimed as a world champion for the first time in his career, following Javier Gomez Noya of Spain's' reign.
In addition, another athlete from UCAM, Fernando Alarza, a Psychology student completed the race in ninth position to be third on the overall final classification. The Spanish Federation appealed for the disqualification of Jonathan Brownlee, which would have given Alarza second position but the appeal was not accepted and the UCAM triathlete finished in the third position of the World Series.
More information: Communications Office. Tel : 968 278 580.