Live the joy of Christmas in Murcia
Many events will take place at UCAM and in the city of Murcia during the festivities
21 December 2017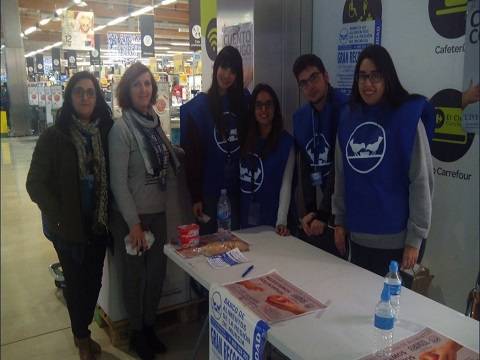 The sparkling festive lights have been switched on in Murcia and lots of exciting activities and events will take place in the city and at UCAM University during the Christmas festivities.
The volunteer service of the Catholic University of Murcia arranged various activities so that students of the UCAM can fully live these holidays.
The 14th December the students celebrated the Solidarity Dinner followed by the Christmas greetings held in the Plaza del Cardenal Belluga, the students had a pleasant time singing Christmas carols and seeing the Nativity Scene of the Episcopal Palace.
The 22nd December in the Cathedral of Murcia, will take place the Christmas Concert of the University, by the Symphony Orchestra of the UCAM and the Discantus Choir.
After the Christmas holidays, the "Crédito solidario" will take place. A seminar which brings together students, willing to participating to volunteering activities, with people who will share their testimonies of missionaries in Peru and other places.
Choirs, exhibitions, Christmas Market: in the City of Murcia there will be a series of activities and events to celebrate this special time of the year.
The inauguration of the Nativity Scene and the Christmas lighting, on 5th December, opened the calendar full of playful and cultural proposals. In fact, this year's Christmas program includes more than 500 events in the urban area of ​​the city, activities will continue until the 7th January.
Starting with the lighting of the large Christmas tree in the Plaza Circular, which this year gains in height with a total of 40 meters and 60,000 lights. A show that featured sensory effects, fireworks, audiovisual projections and live music.
In particular, the music will have a special role this year with concerts in the streets and squares.  Moreover, the students of the dance academies will go to the squares to demonstrate their skills with the activity 'Bailando en la plaza' and the group Murciano Blaya has created the song 'Murcia smells like Christmas'.
New this year is the arrival of Santa Claus in Murcia on the 22nd December on a boat by the river.
The 5th January will be time for the arrival of the Three Wise Men that will distribute love and candies to many children and adults.