At the head of sporting research
Research is key in the world of Universities, so it is essential that Spain's University of Sports must be a leader in sporting research and investigation.
15 July 2015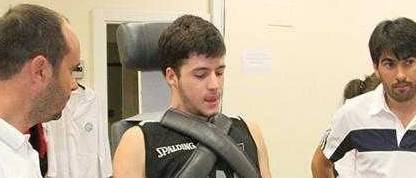 Beyond degrees, sponsorships, organization of trials and training of professors in the field of sport, UCAM is characterized by its innovative and  clear commitment to the promotion of sports research.
A prime example of UCAM's work is the ongoing study of researcher Enrique Martinez to prevent and treat injuries of the isquiosurales (isquios) muscles. His research aims to reduce the incidence of this type of injury in football 
players which would be a significant saving for Clubs and a relief for the players who experience repetitive injuries of this sort.
Apart from heavy investment into research into sports injury prevention, UCAM is also very active in the field of high performance sport. Prestigious Olympians such as Mireia Belmonte and Nicolas Almagro, basketball players Raulzinho Neto and José Angel Antelo, football players Angel Robles and Nono, have passed through the facilities of the High Performance Sports and Research Center where UCAM researchers and students subject them to strength and conditioning tests, sports drills and other evaluations to check their fitness.   
Thus athletes have access to the latest technology in this field and researchers have the opportunity to conduct studies with top level athletes , something that can only take place in the University of Sport.