Education as a way to prevent doping
The president of the International Federation of Sports Medicine, Fabio Pigozzi, Doctor Honoris Causa by UCAM, encourages focusing all efforts on prevention and education in order to avoid the doping of athletes. José Luis Mendoza, University's president, announces the creation of the "Anti-doping Ethical Code" of the Catholic University of Murcia.
09 October 2015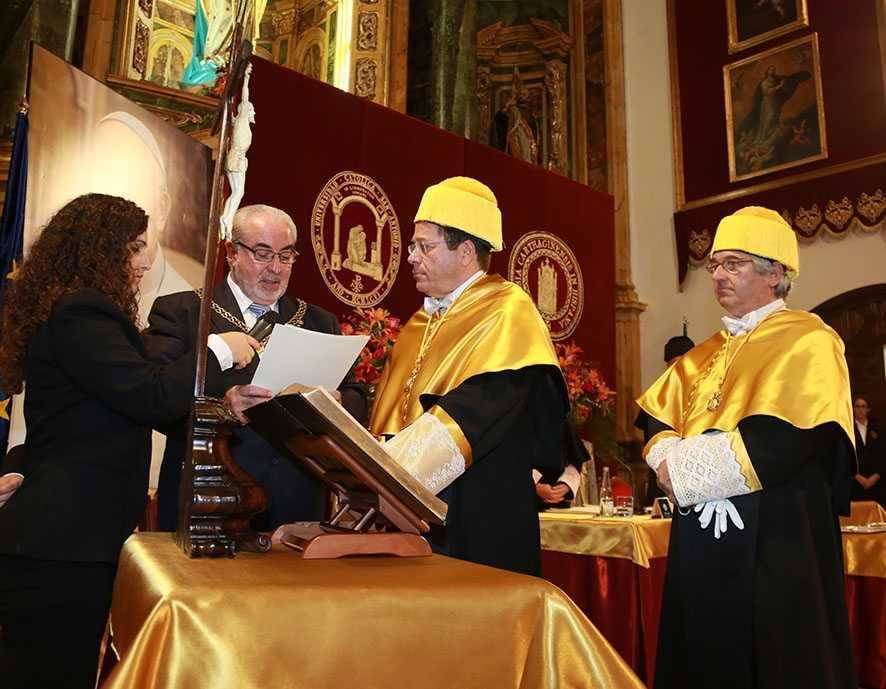 The Temple of the Monastery of Los Jerónimos, main headquarters of the Catholic University of Murcia, has been the stage of the investiture of Fabio Pigozzi, president of the International Federation of Sports Medicine and rector of the University Foro Italico of Rome, as Doctor Honoris Causa. The ceremony has been presided by José Luis Mendoza, UCAM's president, whom has been accompanied by Josefina García, rector of the University; Antonio Montoro, honorary rector and Pedro Manonelles, director of the International Chair of Sports Medicine, who introduced the new Doctor Honoris Causa. Among the arguments he exposed for the nomination of Pigozzi, he highlighted his long career and his reputation as professional, lecturer and researcher, as well as his absolute priority in favour of the person beyond the athlete's results.
Education: a tool against doping
The president of the International Federation of Sports Medicine delivered a speech about "Medicine, sport and person: an ethical challenge of our time". The fight against doping and the protection of athletes have been the central themes of his speech. Pigozzi defended a new way to face the main problem of modern sport. "The doping prevention system in sports has to rethink its role and function in a non-coercive way, but through a preventive and educative system; teaching and helping athletes not to dope in order to reach a long-lasting and permanent understanding of the true ethical and health risks that those practices imply, via reflexion and education,  and not through fear of punishment".
Likewise, Fabio Pigozzi ensured that "when sport forgets about the person, it ceases to be sport, and becomes something that can be harmful and damaging" and further added that "today's biggest challenge for sports science and culture is to ensure that the society perceives sport as an ethical practice, from a playful and healthy context, developing values and predisposing the human being to a better understanding of himself and of his limits". As far as the sport doctors are concerned, he asserted that they have to "act according to their moral principles and those of sports, as a synthesis of all the human values that always involves intrinsic goods for humanity".
In his conclusions, the new Doctor Honoris Causa of UCAM asserted that "sports, as a human practice, is valuable and makes sense in our lives only if it respects these values with love, respect and dignity".
For his part, José Luis Mendoza insisted on the honour the institution has to count with Pigozzi among its Doctors, through the Chair of Sport Medicine presided by Doctor Pedro Manonelles. "We are a university that loves sport, that loves athletes, and everything that surrounds this area such as sports medicine or traumatology", he ensured. Moreover, as an example, he highlighted that the Catholic University of Murcia is imparting new degrees in the fields of physiotherapy in sports or in nutrition in physical activity, and also disposes of a High Performance Sports Centre and the European Centre of Sports Medicine.
UCAM's anti-doping ethical code
During the event has been presented the "Anti-doping Ethical Code of UCAM", a publication to prevent and fight against that plague for sport; it is the first publication of this kind developed by a university in the world. It will be distributed in various languages, and counts with the collaboration of both Spanish and international Olympic Committees, and of the World Federation of Sports Medicine.
The Catholic University of Murcia has become the "University of Sports" in Spain and Europe and has therefore decided to be a reference in the fight against doping.  José Luis Mendoza highlighted the need to "prevent young athletes from the danger of consuming prohibited products that can only cause damage and pain".
Moreover, the Chair of Sport Medicine also presented an anti-doping prevention Guide; it discloses all the strategies an athlete can use in order to avoid doping, from physical, psychological and educative aspects.