"Each flamenco artist is unique and unrepeated"- Suarez Japon
The Vth edition of the International University Research Conference on Flamenco, organized by the chair of International Flamencology and the 'Cante de las Minas' Foundation, begun its activity on the 2nd of December, at the Campus Los Jeronimos, linking the cultural and artistic worlds of flamenco with academia.
11 December 2014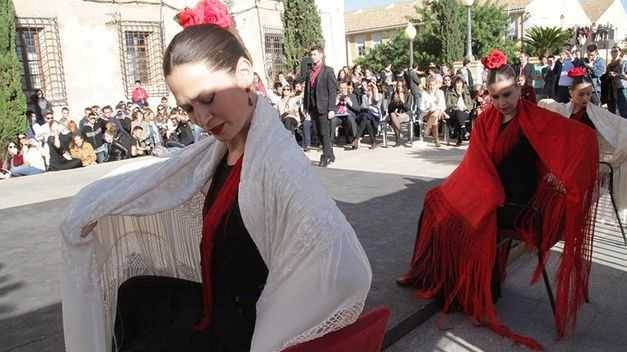 The inaugural conference, titled  'The relationship between flamenco and power' was given by Juan Manuel Suárez Japón, former Minister of Culture at the Junta de Andalucía, and flamenco writer and researcher.
In his speech, Suárez Japón made an intriguing definition of what he believes the meaning of flamenco is: "Flamenco is the single voice of one man and so each flamenco artist isunique and cannot be repeated." .
Suárez Japón commented that "flamenco has been closely linked with the private economic sector of society, and recently, since the late twentieth century, with the government. With the advent of autonomy, public money entered into the world of flamenco so now a new page in the history of the relationship between flamenco and public power is being written".
The opening of the Congress was chaired by Marta López-Briones, Director of the Institute of Cultural Industries and Arts of the Region of Murcia; Carlos Javier Martínez, Mayor of La Union, and Antonio Sánchez Pato, Dean of the Faculty of Sport at the UCAM. 
López-Briones commented on the importance of these cultural events: "Once again the Region of Murcia has become the international capital of flamenco, by hosting this congress. What is interesting is that the UCAM provided to this conference new insights into the relationship between flamenco and other disciplines, such as social networking, power, bull-racing and cinema ".
Antonio Sánchez Pato highlighted the importance of this conference: "For the UCAM this congress is closely interlinked with one word: 'culture'. We can see this through the conferences, workshops and investigations that are being carried out these past few days".
In the second conference 'Flamenco dancing, the jubilant celebration of the tragic cry' José Luis Navarro gave an historic explanation of the transformation of flamenco as a cultural manifestation.
There have also been ongoing parallel activities such as a photo exhibition titled 'Pellizco Flamenco' by Jesús Morcillo, performances by the UCAM Dance Company and the a flamenco percussion workshop with Miguel Ángel Orengo and Antonio Fernández Wito.