Accommodation guide in Murcia
Ucam University receives many foreign students each year. The University supports their research for an accommodation.
05 March 2018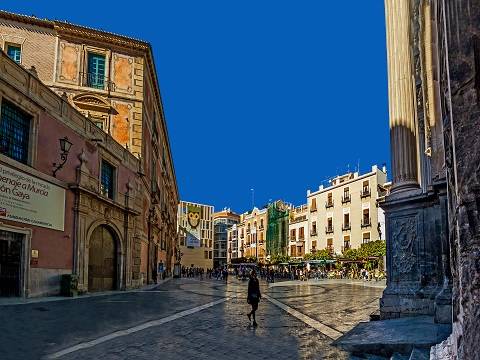 By attending UCAM's courses on-campus, students have the opportunity to live in Spain, specifically in Murcia, where international students are particularly welcomed.
Murcia is a synonym for warmth, hospitality, liveliness, and a safe environment. The soul of Spanish culture is felt around Murcia's city center with its beautiful squares, historic buildings, museums and university campus. As the capital city of the region, Murcia's network of services is supported by modern infrastructures makes life easier, safer and more comfortable: for residents and visitors alike - including hospitals, business areas, big shopping malls, sports facilities, etc.
Ucam University receives many foreign students each year. The University supports their research for an accommodation. UCAM has, in fact, created a housing database, available to all international students, as well as members of the educational community, to facilitate their search for housing. International Admissions Staff assist them to find the right accommodation to suit their needs.
When talking about location, there are two main options: living in the city center (20 - 30 minutes ride to UCAM, there is a direct bus called "UCAM directo") or living in one of the two towns nearby the university: "Guadalupe" or "La Ñora", which are at a walking distance from the university.
In both cases the positive aspect for students looking for an accommodation is that, despite the high quality of life offered by the Region of Murcia, the cost of living is not too high. In fact, the cost for a single room in a shared apartment is from 150 euros to 250 euros per month and a studio or apartment prices might rise up to 300-500€ per month, bills excluded.
Dormitories are another option; however UCAM does not provide those. Still there are dorms, such as, for example: Residencia Campus, Residencia "San Pablo Apostol", Residencia "Maria Inmaculada", Residencia Rum Murcia.
There are several sources while searching for accommodation: first of all, UCAM's Accommodation Offer; where UCAM posts all the information that comes to the university, students can find there other students looking for flat mates, rooms offer, and dorms ads, etc.
Internet is also a very helpful tool for your search: by just typing 'Alquiler pisos en Murcia' or something similar, lots of web pages will pop-up. However, not all are as good. Here a list of the best and most popular searching engines: www.beroomers.com, www.idealista.com/en/, www.pisocompartido.com,  www.yaencontre.com, https://www.hometogo.es,  www.enalquiler.com,  www.uniplaces.com, www.erasmusu.com.
Accommodation agencies are convenient to work with. Each agency has their own procedures and commission fees. Here students can find some accommodation agencies in Murcia: Aloha students,  Alojamiento temporal,  Logar,  Alquilo tu casa,  Inmobimurcia.