"We must not forget our origins and don't let success go to your head"
29 January 2016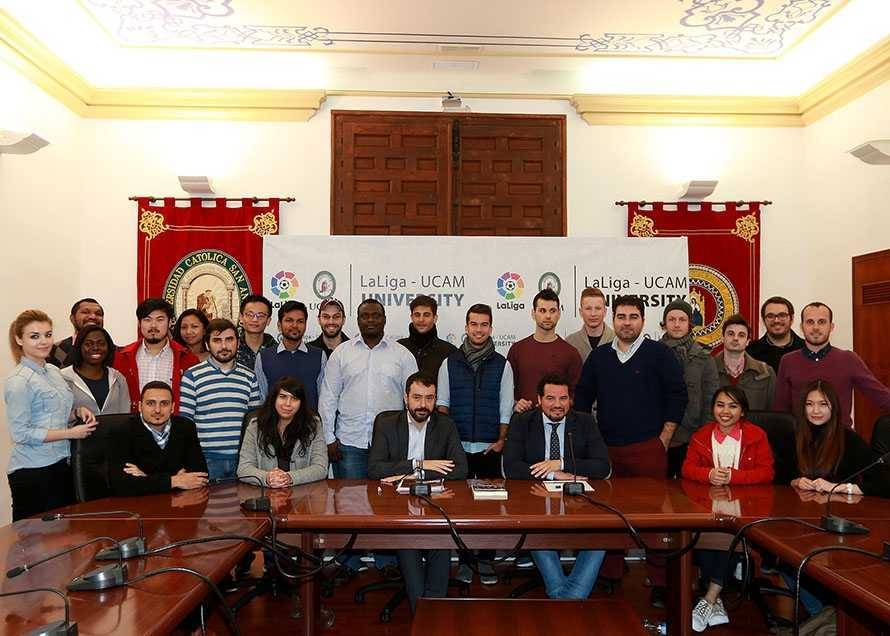 This week Alex Aranzábal, president of Eibar and visiting professor of Laliga-UCAM University, is sharing his knowledge and expertise as he teaches students from the MBA Sports Management. "It's a great achievement for Laliga , which is positioning itself as the best league in the world, and for UCAM as well," said Aranzábal praising the university for developing this kind of program.
Economic management in football is one of the major current issues, and SD Eibar is one of the clearest examples of sustainable growth linked to sporting success. He also introduced his book entitled, 'Another football is possible: the Eibar model' in which he explains the process that has made the whole Ipurua a solid club and financially stable.
Aranzábal was accompanied by the international students from twenty different countries representing five continents: These countries included China, Canada, Slovenia, Italy, Portugal, Russia, the United States, Singapore, India, Ghana, Brazil, Australia, Argentina, Israel, Indonesia, Romania, Cyprus, Georgia, Egypt and Spain.
The club president was overjoyed by the quality of the content of the program and the composition of the international students. Along with José Moya, director of Laliga-UCAM University, Aranzábal explained the keys to success in the business model of Eibar.
Four years ago, Eibar was in  Second Division B with a budget of one million euros. They won, and were granted a  promotion to the first division, resulting in a budget increase of 2 million euros.  With just over 3 million euros in the budget, the lowest of any first division team, Eibar successfully used this money to increase their brand awareness and now operates with a 32 million euro budget. "We maintain the 'zero deficit' for several years now. We have no debts," Aranzábal cited.
He also reminded the students to always keep their feet on the ground:"It is very difficult to manage success. Always keep a cool head. Try to remember your humble beginnings and don't let success go to your head".