UCAM supports youth employment in Europe through the Eurodyssey Program
The institution receives eight young Europeans, realizing labour practices in various departments during five months
15 October 2015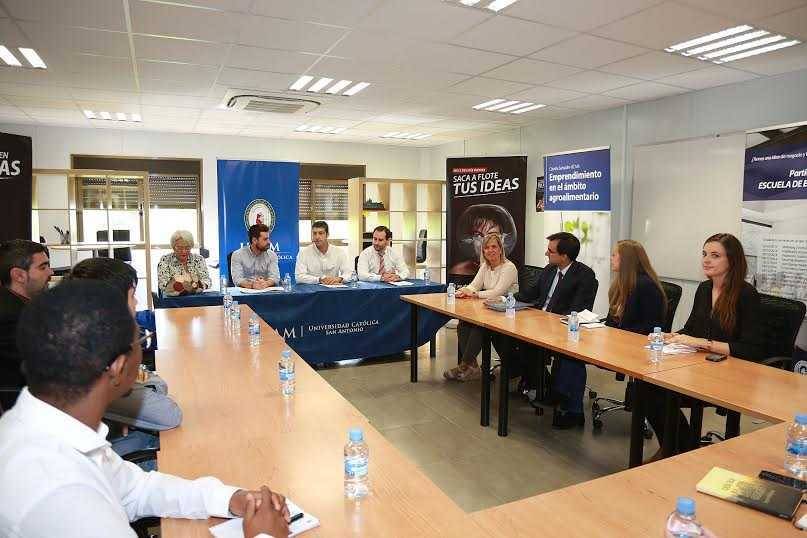 The Director-General of Youth of the Region of Murcia, Francisco Javier Sánchez López, held a meeting with the eight youths coming from France, Portugal, Romania, Italia, Croatia or Belgium, currently realizing practices at UCAM within the framework of the youth exchange program Eurodyssey. The program is an initiative developed by the Assembly of European Regions (ARE) and offers practices to young people aged between 18 and 30 looking for a job.
In such way, UCAM provides support to the youth employment in Europe, enabling young people to acquire a first professional experience, deepen the knowledge of Spanish, and increase their employment and adaptation capabilities on the international labour market. The participants currently work in various departments of the University, such as the Scientific Culture and Innovation Unit (UCC+I), the International Projects Office (OPRI), the Communication Office, as well as in the departments of Protocol, Multimedia and International Marketing. Both the Director-General of Youth and the Eurodyssey Project Manager of the OPRI, Ángel Pablo Cano, highlighted the importance of the international work experience and of the knowledge of the Spanish language in a global labour market.
Likewise, scholars from UCAM and from the whole Region of Murcia also have the opportunity to take part in the Program and realize practices in Germany, Switzerland, Serbia, Italia, Croatia, Belgium, France, Norway, Romania, Bosnia and Herzegovina, Portugal and Georgia.