UCAM shines in international sport
Athletes of the Catholic University of Murcia have gotten twenty sports medals
23 September 2014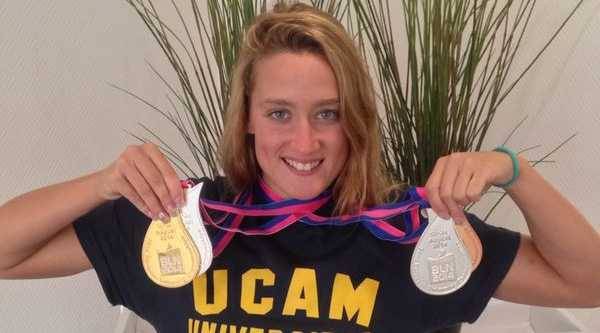 Athletes of the Catholic University of Murcia have been protagonists in the great sporting events of the summer.
In the most important sporting events in the international arena UCAM has had over thirty athletes and eleven of them have managed to get on the podium, endorsing the UCAM support to athletes so they can combine their academic career with their sport training and competitions.
Mireia Belmonte and Teresa Perales were the major players. Mireia has won six medals (2 gold, 2 silver and 2 bronze) at the European Swimming Championships held in Berlin and Perales has achieved seven medals (4 gold and 3 silver) at the European Swimming Championships adapted (Eindhoven).
Duane da Rocha proclaimed European champion in 200 backstroke and Jessica Vall was bronze in 200 breaststroke.
In the European Athletics Championships (Zurich) Borja Vivas got the silver medal in the shot put. The next day came the big moment for Michelangelo Lopez who won the gold in a 20km walk. Meanwhile, in the European Championships held in Swansea, Paralympic Athlet of Murcia Lorenzo Albaladejo got two silver medals in the sprints (100 and 200 meters).
In early August, Maialen Chourraut became gold in the canoe K1 in the World Cup held in Seu d'Urgell.