UCAM shines against Movistar Estudiantes, 83-70
19 January 2016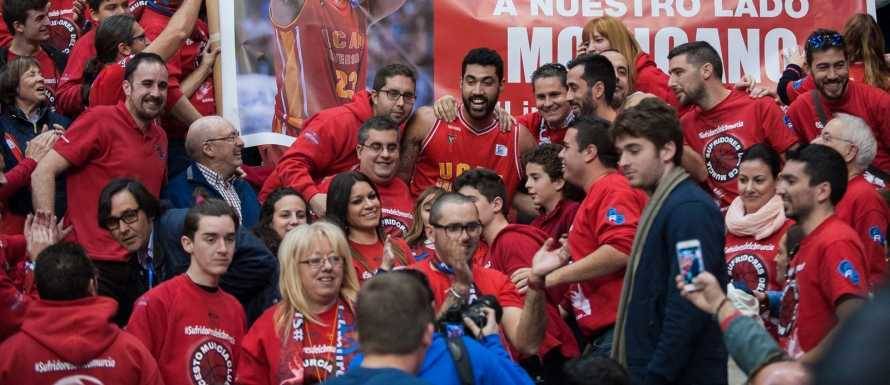 The Movistar Estudiantes visited the university sports complex  yesterday seeking their third consecutive victory in the Palacio de los Deportes. It was a close fight in the first half  but UCAM found momentum after the break and sailed towards a victory and the seventh victory of the season. The match also highlighted the return of Diego Ocampo, who played for UCAM last year.
UCAM started the game with a favorable 5-0 lead, which was quickly answered by the Movistars. Sadiel Rojas was dominant on the boards and  the strong defense of Ocampo  slowed the opposing offense and kept the game close.
At the beginning of the second quarter, Jaime Fernandez of Movistar Estudiantes tried to takeover the game but Murcia answered by moving the ball into the paint. Movistar played pressure defense for the entire game, making easy points hard to find but Fotis Katsikaris responded the offensive call. Brazil with 11 points was the top scorer of the first half (35-36).
UCAM was faced with foul trouble at the start of the final half.
Vitor Benite led the offense  and trimmed the gap to an equal 44-44. A pair of three pointers by Scott Wood give his team the 6 points lead with 3 minutes left (52- 46). Movistar Estudiantes tried to regain the lead with the help of the 3-point shooting  of Dario Brizuela but went scoreless soon after leaving the score (57-52) in favor of UCAM.
The last ten minutes of the match was intense. Vitor Benite assumed the offensive responsibility scoring 5 straight points to put  UCAM up by 10.  However,  Poor shooting gave the Movistar the opportunity to close the gap to 8 (66-58).
With the combination of 3-point shots by Carlos Cabezas and Facundo Campazzo sealed the game in favor of UCAM (73-60). The Movistar Estudiantes fought hard in the final minutes but UCAM was too strong and extending the gap to 13 points ending the game at 83-70. UCAM's  victory was led  by Vitor Benite with 19 points, 10 rebounds; Sadiel Rojas, and Augusto Lima with 23 points respectively.