UCAM reinforces its presence in Asia
The Catholic University of Murcia has inaugurated its new offices in Beijing and Manila, and re-opened its headquarters in Jakarta and Dubai for the new academic year.
28 October 2014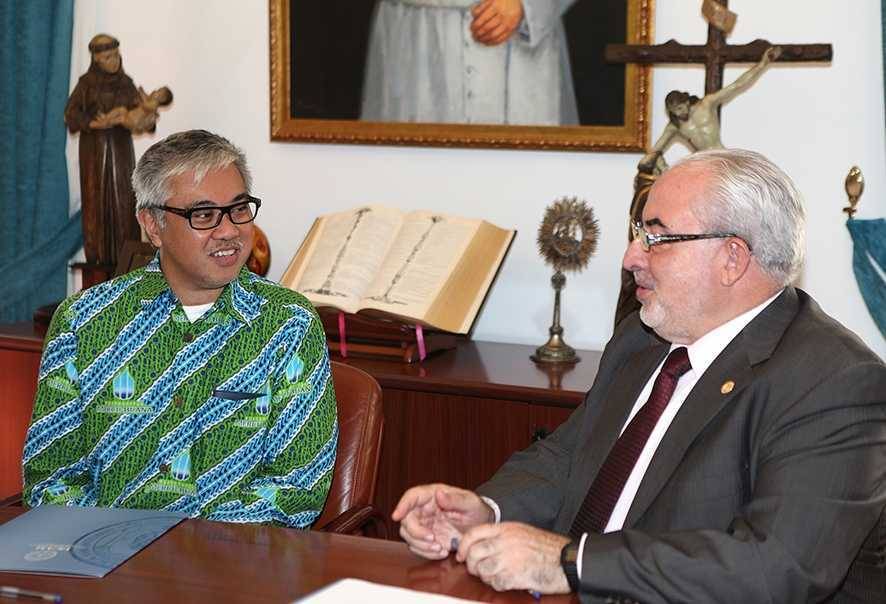 In its continuous strive for internationalization, the UCAM has established new offices in Beijing and in Manila, from where the university will continue conducting institutional relations and marketing activities. These are an important addition to UCAM´s offices which already operate in Jakarta (Indonesia) as of 2012, and both Dubai and Singapore as of 2013.
The University, which opened its office in the capital city of the Asian giant in July of this year, aims to establish relationships with universities, educational institutions, ministries and embassies to increase UCAM´s profile in China and form agreements for student and professor exchanges. Additionally, UCAM international offices facilitate the admission of prospective students to the University´s Campus in Murcia.
UCAM in China: a fascinating endeavour
The head of Institutional Relations and Marketing in China, Zhen Guanghao, stated that "working for the UCAM in China is a fascinating endeavour as it involves promoting both the University and Spanish language and culture. Most people are drawn by UCAM´s strong emphasis on sports, and interest among prospective students increases when they find out about the number of formative postgraduate courses on offer both in English and Spanish.
This September the UCAM began a similar project in the Phillippines, establishing an office in Manila with the same objective: to build on relationships with local universities with the aim of establishing further agreements of collaboration and student exchanges.
The head of Institutional Relations and Marketing, Karine Kristine, highlighted that "the strong Catholic presence in the Phillippines provides a very appropriate environment in which the UCAM can develop and thrive as a global university".
Furthermore, Kristine observed that the "growing development of this country is allowing an increase in the number of students considering going abroad to study in Europe, and the UCAM opens a new door for these students to travel to Spain to obtain official postgraduate degrees which are highly valued by companies in the Phillippines.
Consolidation of existing headquarters
UCAM´s office in Jakarta (Indonesia) has been reinforced with UCAM´s School of Spanish, which teaches approximately 100 students. Furthermore, the University has several students coming from South-East Asia to the Murcia Campus to study the MBA and Masters in Dance and Artistic Movement.
On another note, the Spanish Institute of Dubai has commenced with two Spanish language groups, and is expected to incorporate a growing number of students based on the number of applications that are being received.
Both of the above share the same teaching courses and content as the courses imparted by the Language School in Murcia, although they have been adapted to suit the requirements and characteristics of each of these countries. These projects are all coordinated directly from the UCAM in Murcia and from UCAM´s centre of marketing for South-East Asia; its office in Singapore.