UCAM produces manual to prevent injuries in football players
The Group of Sport Injury Prevention of the Catholic University of Murcia has developed a manual to prevent injuries caused by football players' bad choices of footwear. The proliferation of artificial turf and a wide variety of football boots on offer in the market are two factors which cause players to choose the wrong type of footwear which may lead to injuries.
30 March 2015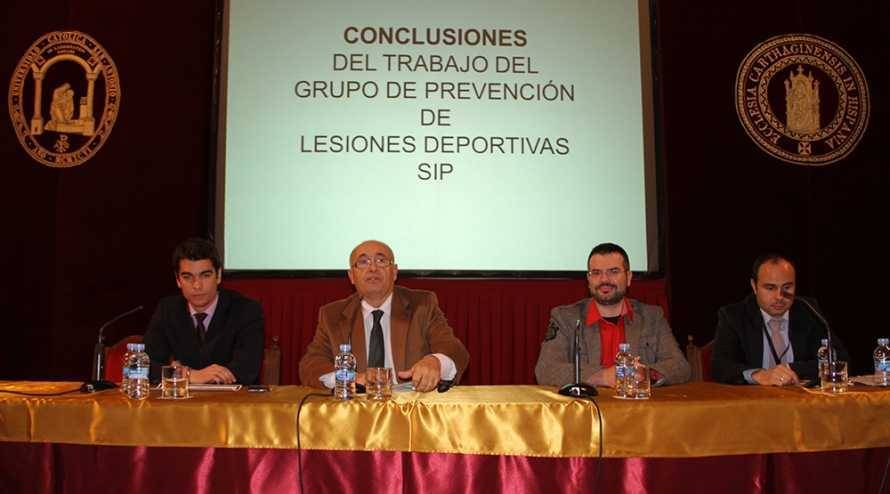 Following an extensive study of playing surfaces and different types of footwear, UCAM's Group of Sport Injury prevention have developed a simple manual, supported by the Football Federation of the Region of Murcia, to help players to choose the right type of footwear depending on the surface on which they play.
 The recommendations are based on labels that all football boots should carry and the surface on which the game is played. Therefore, natural grass should only be played on with shoes that have the distinctive FG (Firm Ground) or SG (Soft Ground) label. If the game is played on artificial turf of first and second generation or hard fields of third generation, the ideal shoe to be used should carry the label HG (Hard Ground) or Turf. Lastly, artificial turf of third generation in good condition should be played on with footwear labelled AG (Artificial Grass) or MG (Multi Ground). The most important recommendation is not to play on artificial turf with boots FG or SG.
The Region of Murcia's Football Federation will forward this study to all of its clubs to forward this information to all of their players, in order to avoid injuries caused by poor choices of footwear when playing football.
 "There is insufficient investment into the prevention of injuries"
The Catholic University of Murcia also hosted the II International Conference on Prevention of Sports Injuries and XXIII National Conference on Sports Traumatology. The three day conference which took place on the Los Jeronimos campus included experts, researchers, teachers and students irelated to the field of sports traumatology.
The conference was inaugurated by Pablo Blesa, UCAM's Rector of International Relations and Communication; Ricardo Leiva, Director of Sports of the Spanish Olympic Committee; José Luis Martínez 
Romero, Co-director of the UCAM Department of Sports Traumatology; and Pedro Emilio Alcaraz, Director of the UCAM Research Centre in High Performance Sports. Ricardo Leiva welcomed attendees and invited them to enjoy the experience of learning at UCAM: "The Spanish Olympic Committee has partnered with the Catholic University of Murcia for the great work they do on behalf of sport".
Pablo Blesa stated that "only through opening the doors of the university to the world can we all benefit from an exchange of knowledge".
Dr. Martínez Romero stated that "Prevention is never enough. These seminars and Groups of Sports Injury Prevention have been created precisely to further develop work in that field".
"If an athlete sleeps badly he or she is more likely to be injured"
One of the topics discussed at the conference has been the importance of rest to avoid injuries in athletes. An expert on the subject is Gerardo Villa, Professor of Physiology at the University of León and Professor of the UCAM Masters in High Performance Sports. For Gerardo Villa, the problem is that a bad sleep affects training and vice versa, which can result in injury or reduced performance: "Those athletes who have some type of sleep deprivation will be affected in some skills related to strength, power, agility and coordination. This is worsened because the athlete always wants to train harder and for longer periods of time. Exercise intensity creates some problems related to the metabolism that causes worse sleep so we enter a vicious circle. This is accentuated in those athletes who suffer jet lag, which requires an adaptation period to normalize sleep cycles and adapt to workouts".