UCAM leads new EU projects for labor insertion involving 18 Countries
Ángel Pablo Cano, OPRI director: "These projects represent an opportunity for our students. It is important to be part of our European culture and share its essential values"
01 March 2018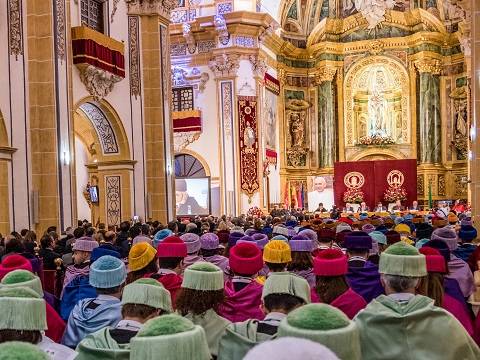 The UCAM, through its Office of International Projects (OPRI), will be responsible for carrying out the coordination and management of new projects, focused on promoting employment and self-employment.
Improving innovation capacity, fostering entrepreneurship, developing skills and knowledge essential for job search: these are some of the objectives on which UCAM will work, together with entities from Italy, Portugal, Belgium, Germany, Croatia, Bulgaria, Moldova, Belarus, Armenia, Poland, Ireland, Slovenia, Georgia, Macedonia, Lithuania, Romania and Norway, among others.
The five new European projects are added to the numerous initiatives that UCAM organizes to strengthen labor insertion in Europe, from education initiatives for young people, international research projects, as well as university-business alliances.
Among the new projects of the OPRI, there are 'Smart CBHEI' (Erasmus + KA2), initiative of 14 partners from Spain, Belgium, Germany, Bulgaria, Moldova, Belarus and Armenia, oriented to the field of training professional; as well as the 'Future Builders' projects; 'Why do not you get to work?'; 'Story Builders' and 'EVS- Planning is Crucial for Quality'.
Ángel Pablo Cano, Director of the OPRI said: "These projects represent an opportunity for our students. It is important to be part of our European culture and share its essential values. In addition, the nature of some of the approved projects allows us to continue reinforcing UCAM's support for entrepreneurial initiatives".
Learn more about OPRI at: http://investigacion.ucam.edu/opri