UCAM Degree, Career in Europe
Graduation is over and you already obtained your hard-earned European degree; but for non-EU citizen students, there's another hurdle that needs to be conquered for those who wish to stay and get a job in Europe.
10 May 2017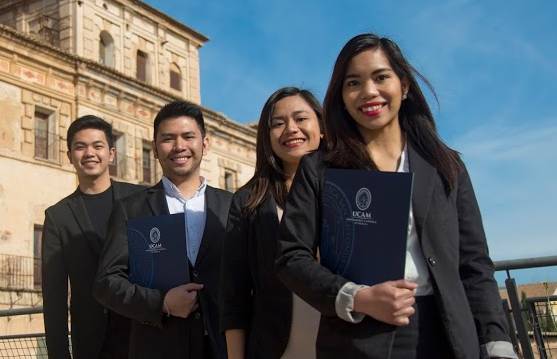 Landing a job in Europe for non-EU citizens was not a walk in the park. The big EU economies like Spain, Italy, and Portugal are still slowly recovering from the 2008 economic recession. This has aggravated the country's' unemployment rates, which made it difficult even for some EU citizens to obtain a job.
But that did not discourage the students like Kurt and Clarisse to try their luck in Europe. In their minds, simply trying to apply for a job would not hurt. They are already in Europe anyway - a continent filled with diverse and rich culture as well as a long history.  Not to mention the easy access to explore the Schengen Area where you can travel freely across 26 EU countries. For Asian millennials, who wouldn't want to live here? At least during the early phase of their careers.
Here is the story of 2 of the Filipino MBA graduates of UCAM, Kurt and Clarisse:
Stick with your goals. If you feel that Europe is for you then start planning everything. Roughly three months before our MBA graduation, we were already sending out our applications to various companies in different job portals and mediums. The job application process has to be juggled with our MBA internships and writing our final master thesis. Again, focus on your goals to avoid overlapping of priorities. 
Here are some few tips that we can share with you to find a job in Europe after completing your Master's Degree:  
 
1. Believe in yourself. 
If you don't believe in yourself, no one will do it for you. That's the mantra that we keep telling to ourselves. The entire job hunting journey is like a roller-coaster ride, just give your best shot always as others would say, You can only live once (YOLO) so make the most out of it. 
2. Send as many applications as you can.
There are various ways to send your applications as companies these days utilize job search engine sites to advertise job posts like LinkedIn, Graduateland, Glassdoor, Monster, and CareerBuilder, to name a few. You can also send direct application through the companies' websites. 
Set a daily target on how many applications you intend to send out, as there are new job vacancies posted each day. 
3. Getting Your Name Out There.
Besides letting your friends and coworkers know that you are job hunting, it can also be a good idea to use social media such as Facebook or LinkedIn to promote yourself. Many recruiters now take a look at a job applicant's LinkedIn profile because it can contain much more job information and history than a resume. No matter what an individual's field of employment is, using job search sites or a job search service can be enhanced by using social media. Kurt got his current job through LinkedIn, so it is pretty powerful. 
4. Don't give up on your dream job.
With high competition for graduate jobs in Europe, it is easy to feel disheartened. You don't have to give up on your dream job once you're clear what that is but it is also worth thinking about what skills and experiences you need for that job. Whether you need to refresh your skills or bolt on some extra knowledge in digital media, for example, where there is currently a skills shortage. You may also have to move, assessing the current location where you live and if there are opportunities available to you.
5. Plan your Job search strategically.
It's important to see your job hunt as a continuous process. Start thinking about how to take control of your career development on an ongoing basis – by knowing your skills, values and interests – as this will be helpful for you throughout your working life.
 
In order to feel in control of your job search, you need to follow these steps. First, follow industries or fields of work that interest you. Second, proactively search out employers, don't wait for adverts, or rest on the use of recruitment companies. And third, make contact with people who already do the roles you want. Ask them how they got there, what the job is really like and whether there are any opportunities coming up. Most people will be happy to help you if you approach the right way. Soon after, you'll possess a fantastic network of contacts for the next stage of your career.
6. Take breaks.
The job search process can make you pretty emotional, especially when you go on the fifth interview and then you're told that the firm has hired someone else. If you're having a bad day, do research or catch up on email. We agree with this piece of advice but we also have to acknowledge that it can be awfully tough to keep your spirits up if you've been job hunting for a long time with no success. A single day off may help but you might need to seek more support from family and friends. A strong support would really get you further. 
----
Kurt Sajor completed his master's degree in Business Administration at Universidad Catolica de Murcia and now working as an Assistant Manager for Programmatic Sales for ESL Gaming headquartered in Cologne, Germany. 
Clarisse Ann Bartolome completed her master's degree in Business Administration at Universidad Catolica de Murcia and now working as an Investment Analyst
for Lutetia Capital Investment Advisors Ltd. in Valleta, Malta.