UCAM's Sport Facilities
Sport is part of the DNA of the University, which counts, in fact, 21 federated teams, sponsored or managed directly by the university. At the Rio 2016 Olympic Games, UCAM participated with 60 athletes, winning 15 medals, thus becoming the second university in the World at the Rio Games for the number of medals. UCAM University can count on excellent sport facilities.
22 March 2018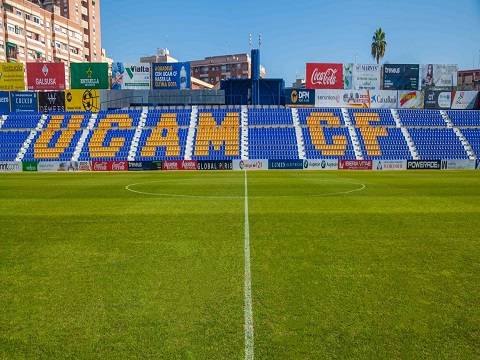 UCAM Sports Center
UCAM Sports Center is the first gym directly managed by the Sports Activities Service of San Antonio Catholic University of Murcia. With these facilities, the UCAM increases and strengthens its ongoing commitment to the sport.
Located in La Noria Shopping Center, UCAM Sports Center offers you 3,000 square feet facilities. Students can get fit in our fitness room, possibly the largest in the region of Murcia, with the highest level technology Technogym. This Sport Center has qualified instructors with a degree of Science in Physical Education and Sport.
'La Condomina' Stadium
The stadium where the Catholic University of Murcia FC will play this season is 'La Condomina', located in the heart of the city of Murcia. It is a stadium with a capacity for 6,500 spectators. It was inaugurated on 25 December 1924. It has two changing rooms for players, referees changing rooms and media room. The team, base teams' offices and official store are also located inside the stadium. In addition to sporting events, concerts, galas, shows and a whole host of events are held, for which the stadium is ideal because of its location and easy access. It was the old seat for the Real Murcia and Ciudad de Murcia football teams, currently UCAM Murcia Football Club' seat.
Palacio Municipal de Deportes
The Palacio Municipal de Deportes of Murcia is a Sports Hall situated in Avenida del Rocío, in the area known as las Atalayas. Its facilities are used for high level sport events. Inside we can find a a complete fitness center with weight room and exercise machines together with other facilities for different purposes, such as an additional 34 meters long per 20 meters wide training track, which is situated under the palace east grandstand and 6 tracks to practise squash with stands. It also has 6 collective locker rooms and 4 for referees.
It is used mainly for basketball and football. The site serves as headquarters for the UCAM Murcia basketball team and football team El Pozo Murcia. It has a total capacity of 7,454 spectators (6026 to 1428 stands in fixed and mobile stands), extendable to around 9,000 extra tiered. It was designed by the architect Miguel Angel Beloqui and built in 1994.
From this year, included in the Admission service charge, all the students will receive the "Student welcome pack" which includes, among other services, the UCAM Sports center membership, season tickets UCAM CB Basketball and UCAM CF football, to enjoy the sport in these amazing facilities.