Successful premiere of 'Jesus of Nazareth'
More than 1,600 spectators filled the seats of the Victor Villegas Auditorio of Murcia to watch the premiere of the Jesus of Nazareth film
09 March 2016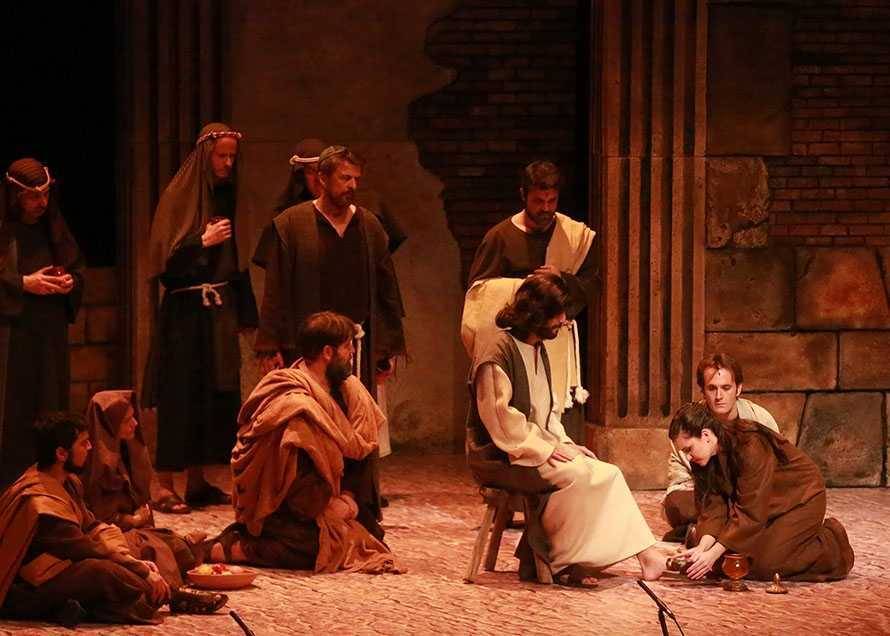 The audience was full of joy, hope, passion and pain last Saturday (March 5th) in the Victor Villegas Auditorium, which recorded over 1,600 spectators to watch the premiere of the sacred drama.
Live music from the UCAM Symphony Orchestra under the leadership of the great Jumillano composer Roque Baños together with the magnificent artistic direction of Diego Carvajal and the excellent staging of the actors. Jesus (Francisco Garcia), Judas (José Miguel Baena), Maria Magdalena (Ruth Teran) and Salome (Mireia Gracia) won the hearts and managed to put the audience in awe during the premiere night.
"It was a magical night!"

- Roque Baños
After the successful premiere, the crews of 'Jesus of Nazareth' were applauded by their work and their performance. Roque Baños was happy about the outcome of this anticipated release. "It was something very beautiful and these exemplary Murciano talents have been evident in this release." Eugenio Santos, the manager of the UCAM Symphony Orchestra, reflected with his words of satisfaction, having brought to fruition the project brand 'Jesus of Nazareth'.
"We have lived a unique experience, both the public and us."

- Diego Carvajal
The impeccable interpretation of the actors was one of the strengths of the work. Francisco Garcia was brilliant in his role. He was quoted, "It is the most important, difficult and emotional role I've ever played!"
Angel Carrillo , director of the Coral Discantus, claimed that great emotions also lived in some members of the chorus: "This experience is one of a kind. This is the highlight of the 21-year-existence of the Coral Discantus . We have come to a point that some of the choir members are crying on stage with the difficulty that implies when singing ". The key to reach that degree of immersion was certainly "the staging, the script and music. All this combined with the spiritual character of the work, you will definitely touch the hearts of the crowd." concluded Carrillo.
José Luis Mendoza, president of the Catholic University of Murcia who produced this work, was present at the premiere. After receiving numerous congratulations from the audience, he went looking for actors and musicians to congratulate them personally especially Roque Baños, Diego Carvajal, Eugenio Santos and Angel Carrillo.
Part of the celebration of the International Congress Laudato Si at UCAM included Jose Manuel Lorca Planes, Bishop of the Diocese of Cartagena; Antonio Maria Rouco Varela, Cardinal Archbishop Emeritus of Madrid; Lluís Martínez Sistach, Cardinal Archbishop Emeritus of Barcelona; Manuel Urena Pastor, Archbishop Emeritus of Zaragoza; Francisco Gil Hellin, Archbishop Emeritus of Burgos and Jose Luis del Palacio, Bishop of Callao (Peru) are all present at the premiere and served as the VIPs of the night.
Numerous government officials are also in attendance namely Noelia Arroyo, Minister of Culture and Spokesperson of the Region of Murcia; Rosa Peñalver, president of the Regional Assembly; Marta Lopez-Briones, Director General of Cultural Industries and the Arts; or Juana Guardiola, mayor of Jumilla.