Strong growth in research
The Catholic University of Murcia has strongly boosted its research work in recent years, especially in the area of health, and it has increased the transfer of knowledge to the business world.
23 April 2018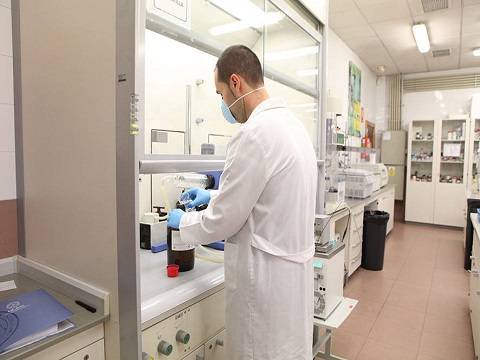 Scientific advances entail the transmission of results to the society, thus converting research into one of the strategic pillars for sustainable development.
The Catholic University of Murcia promotes research through a firm commitment to the development of quality science, which has led to significant growth in research in recent years.
The unstoppable increase in the collection of external funds, in the doctoral theses registered and defended or in the number of publications, for example those registered in Web of Science (WOS) in 2017, prove it.
The UCAM is clearly committed to the transfer of knowledge and technology to the productive sector, for which it strengthens collaborations with companies through the promotion of new research structures, such as university chairs with companies or industrial doctorates.
COLLECTION OF EXTERNAL FUNDS FOR RESEARCH.
The Catholic University of Murcia has managed to increase, year after year, the funds raised from national and European institutions and companies for the development of research.
INCREASE IN THE NUMBER OF THESES.
The important increase in the number of doctoral theses registered and defended in the Catholic is well known. Last year, more than 170 researchers defended their thesis; compared to 74 in 2016 and 28 in 2015.
NUMBER OF PUBLICATIONS IN WOS.
Cell, Nature and Science, scientific journals with the greatest impact in the world, have published 19 research UCAM's articles in 2016-2017, an institution that has seen its registered publications grow in the Web of Science (WOS).
Four examples of projects developed by the UCAM:
LIFE CLEAN UP
International project, funded with the Life + call, led by the UCAM, for water decontamination. It has a budget of € 1,492,512.
Insect flour
'Valorization of by-products of the agrifood industry of the Region of Murcia through the production of insect flour', is another project, with a budget of 1,189,334 euros, financed by the Ministry of Economic Development, Tourism and Employment of the Region of Murcia.
Overweight
'Evaluation of the effect of beverages rich in bioactive compounds to modulate energy metabolism in overweight adults' is another of the investigations developed by the UCAM, and funded by MINECO, with a total of € 102,850.
Blood pressure
The Research Group in Physiology and Nutrition Applied to Sports of the UCAM, together with the company Monteloeder, is developing an investigation, with a budget of 373,890 euros, to verify the effectiveness of a natural ingredient on blood pressure.