Sabur Khan, chairman of the Daffodil International University: "UCAM facilitates the international labour insertion of our Bangladesh students "
The president made his first official visit of the Campus of Los Jerónimos
15 October 2015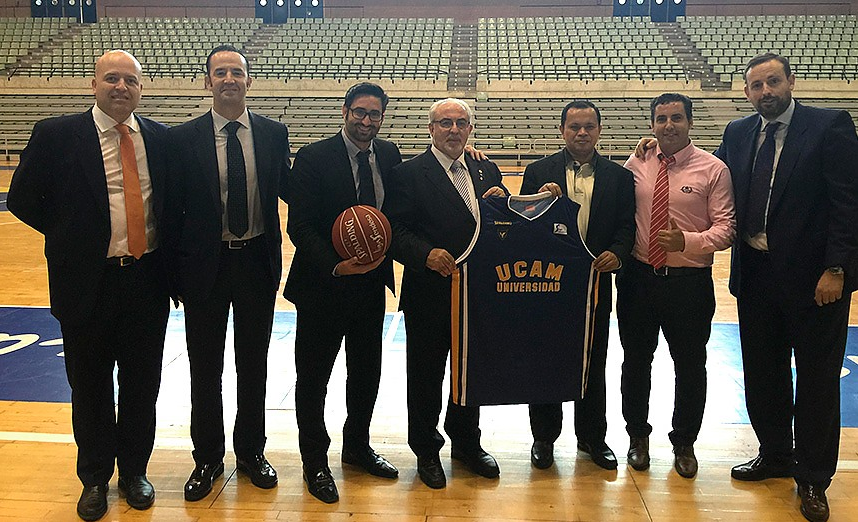 During his first official visit, Sabur Khan, president of the Chamber of Commerce of Bangladesh, and founder and chairman of the Daffodil International University (DIU), held a meeting with José Luis Mendoza, president of the Catholic University of Murcia, and together they assisted to the training of the UCAM Murcia CB. He also visited UCAM's infrastructures on the Campus of Los Jerónimos, and was "especially impressed by the installations of the Faculties of Communication and of Health Sciences", equipped with TV and radio studios, as well as a digital anatomic table and simulation rooms, respectively.  "UCAM has a fantastic setup of cutting-edge infrastructures for its students, which is essential to give them competitive advantage in today's world", highlighted Sabur Khan. He further commented on the internationalization, one of the values both institutions share, and how "essential it is to support international higher education in our global market; just like UCAM, Daffodil is trying to be very proactive in that area, in order to facilitate global labour insertion of our students". In that sense, he also emphasized on the competitive skills students from Daffodil can have in learning the Spanish language, "one of the dominating languages in the world".
Last July, both institutions signed an agreement to establish a dual master program, enabling students to earn two academic degrees: a Master in Business Administration from DIU and a Master of Business Administration from UCAM. When the students will have completed the courses of the MBA at DIU, they have the opportunity to continue their studies at UCAM, transferring credits from the DIU's MBA programs towards UCAM's MBA degree. The first students of the dual-program will arrive in May 2016 at UCAM.
With this agreement, UCAM shows its will to reinforce its relations with the Asian continent and particularly with Bangladesh. Mr Sabur Khan ensured to be "confident that this is the first of a wide range of projects between our institutions, including in the field of sport related studies". DIU's students will be among the 2000+ international scholars studying at the Catholic University this 2015/16 academic year.