Reception with several UCAM Olympic athletes
Last Friday kayakers David Cal, Javier Hernanz and Paco Cubelos, beach volleyball players Liliana Fernandez and Elsa Baquerizo and taekwondo athlete Brigitte Yague were welcomed by the President of UCAM on campus
03 March 2015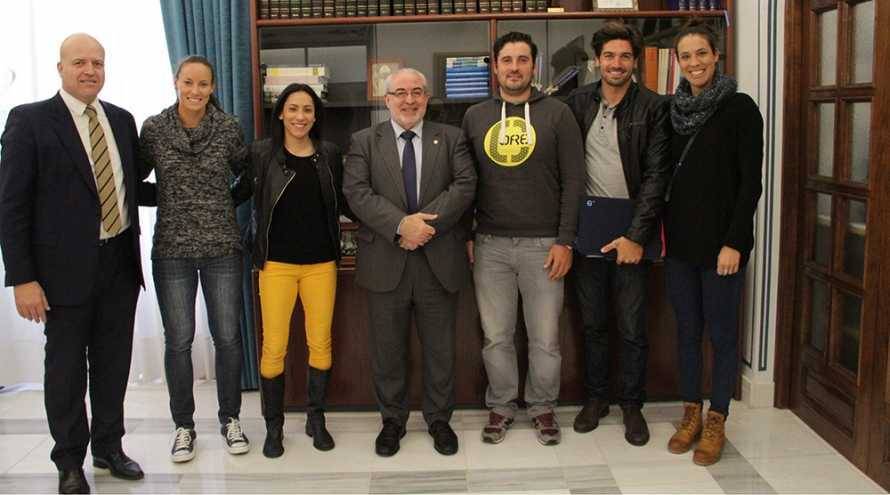 Six Olympic athletes coincided at the same time on campus last Friday for different reasons. Kayaking champion David Cal was in the region to attend the "Foro Nueva Murcia" in honour of his sporting achievements. Paco Cubelos and Javier Hernanz were at UCAM to sit their exams in BA Business Administration and BA Law respectively. Brigitte Yague, Elsa Baquerizo and Liliana Fernandez, alongside the ultra-marathon runner Cristina Gonzalez, participated in a round-table discussion about "Women and Sports" as part of the XIV International Sessions on Charity and Voluntary Work.
The athletes visited UCAM´s president, Jose Luis Mendoza, with whom they discussed the challenges they are facing this year during which most of them are fighting for a place in the 2016 Summer Olympics in Rio.
They also spoke about the project financed by EU and pioneered by UCAM to transfer the sports tutorship model to other European universities.
Javier Hernanz, Law student at UCAM, assures that this is the type of model that Spanish sports needs "We have been in need of a system like this for a long time. Previously, it was impossible to find a balance between competing to the maximum and complimenting this with academic studies, so we welcome this project with open arms".