The prestigious Beijing Sports University commends UCAM for its importance in European Sport
Several representatives of the prestigious Beijing Sport University, widely considered the most important university for sport in the Chinese capital and home of the training grounds of most Chinese Olympic teams, have visited UCAM´s sporting facilities this morning.
28 October 2014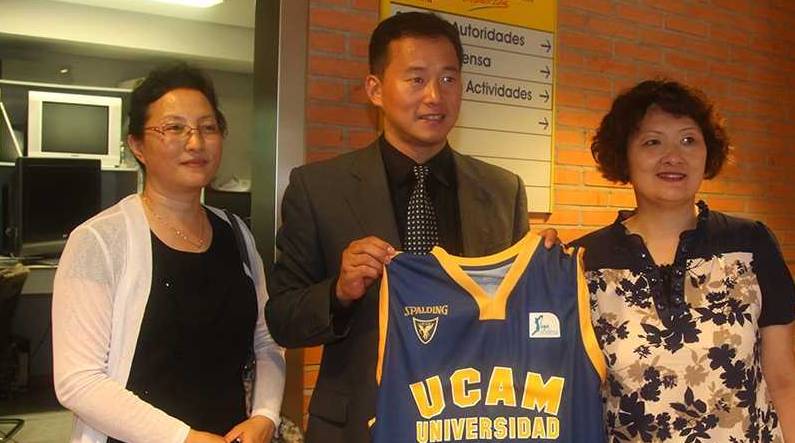 Representatives of this Chinese university have visited the Department of Sports, the chair of Sporting Orthopedic Surgery, the Sports Management Institute LFP-UCAM, High Performance Sport Centre, UCAM Sports Centre, as well as the training grounds of UCAM´s elite sports teams at La Condomina and the "Palacio de los Deportes". Thus they were able to experience first-hand the work of UCAM´s athletes and elite sports teams.
The delegation from this Asian university was composed by the co-director of the Office of Foreign Relations of the Beijing Sport University, Hua Yongmin, Li He, vice-chairwoman of the Faculty of Sports Science, and Cai Wenju, vice-chairman of Sports Journalism and teh department of Communication. They met with the president of the UCAM, José Luis Mendoza.
The head of this delegation, Hua Yongmin, highlighted UCAM´s unique character in comparison to other Spanish and European universities.
The Deputy-Head of Communication and International Relations at the UCAM, Pablo Blesa, assured that the UCAM is the University of Sports and holds as one of its main objectives the establishment of accords between universities such as the visiting Beijing Sports University, which is among the top ten best sporting institutions in the Asian country. "We wish to devise a constructive and mutually beneficial relationship which will allow us to carry out competitions, collaborate in investigations, etc."
More than 50 years of history
The Beijing Sports University was funded in 1953 and has had a significant contribution to the formation of Chinese athletes. Approximately 30,000 athletes have passed by its halls in order to build on their sporting knowledge, which is a credit to the vast number of degrees available at this university.