Mireia Belmonte: "UCAM has become my home"
The Catholic University of Murcia paid tribute to the world-class swimmer for her recent achievements in the European Championships and Swimming World Cup.
06 November 2014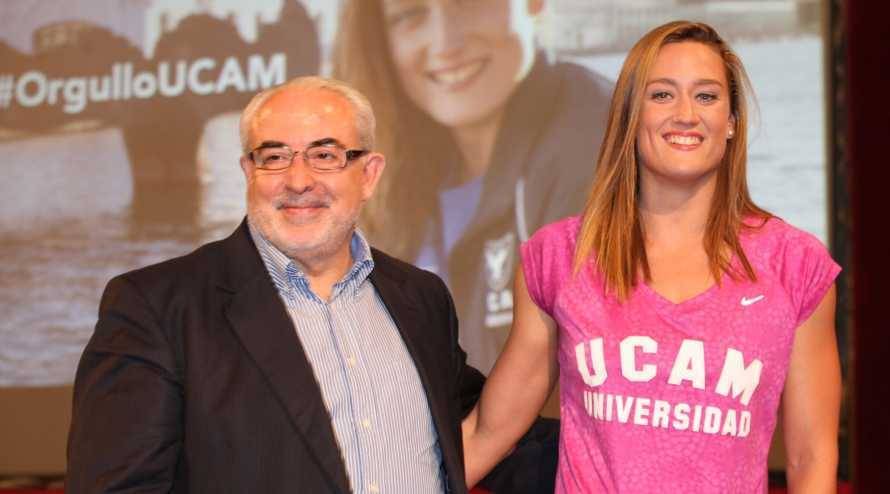 UCAM has paid an emotional tribute to Miss Mireia Belmonte, current student and globally renown swimmer, in honor of her 6 medals at the 2014 European Aquatics Championships.  More than 600 people, including members of the university community, athletes from UCAM´s sports teams, and sporting enthusiasts congregated in the temple of the Jeronimos Monastery to celebrate the achievements of the best Spanish swimmer of all times. 
Mireia Belmonte looked happy and touched by the ceremony: "For me it is an honor to be given this reception each time I return. The UCAM has already become my home". She is also aware that she still has a long career ahead of her and that her greatest successes are still to come: "Now we have five runs of the Swimming World Cup followed by the FINA World Swimming Championships (25m) before the end of the season. Each year we try and improve on the last year". The President of the UCAM, José Luis Mendoza, expressed pride at Mireia Belmonte´s latest achievements: "It is a very important day for us. Mireia Belmonte is our best Spanish sport-star. Having her as an athlete at our University is a great gift." 
Participants of the ceremony included Fred Vergnoux, Mireia Belmonte´s coach; Julia Luna, TVE journalist, and Pablo Rosique, UCAM Sports Director. Fred Vergnoux talked of the keys to the Spanish swimmer´s success and mentioned that there is still opportunity for improvement: "A lot of work is needed to continue moving forward and progressing through competitions. There is always room for improvement. I am more and more convinced that an athlete can cope with far more than he or she thinks. This is what I see every day". 
On another note, Julia Luna, who has covered six Olympic Games as a journalist did not hesitate to confirm that "What I most admire about Mireia is her bravery. She is giving her all and looking for new challenges. For me it is an honour to experience, through my job, the achievements of Mireia Belmonte and all of the Spanish swimming national team". 
Pablo Rosique highlighted Miss Belmonte´s great dedication in achieving her goals, and reminded the audience of the successes of many other UCAM athletes. "We are very proud of all that Mireia has accomplished. But it is also worth highlighting the great results obtained by other athletes of our university. This has been a historic summer." 
Also in attendance at this ceremony was Miguel Ángel López, European champion of  20km race-walking, and UCAM student. Professors, students and employees of the University participated and took the opportunity to ask Mireia Belmonte, Fred Vergnoux and Julia Luna several questions. The ceremony also counted on the presence of the UCAM football team, and representatives and members of other university sports teams including those of basketball, volleyball and swimming.