Miguel Ángel López: "Next year, I will focus on the Rio Olympic Games"
The brand-new world champion in 20km race walk, just back from Beijing, has been honoured by his university, and highlighted that "the support of UCAM has been a key factor to achieve this great success"
28 August 2015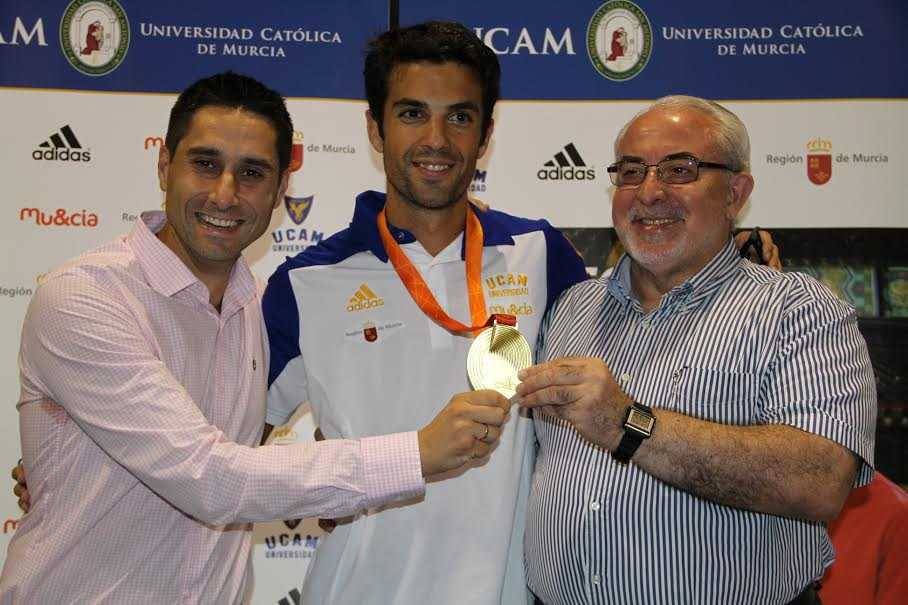 Miguel Ángel López has already returned to Spain. The athlete and student of the Catholic University of Murcia, proclaimed world champion in 20km race walk last week in Beijing, is already back in the region of Murcia and wanted to make his first stop at the UCAM Sports Centre, to be received by José Luis Mendoza, UCAM's president. Obviously tired from the long trip from the Chinese capital but full of happiness and aware that he made history, Miguel Ángel López thanked everyone for their support and for the signs of affection he received in the days following his title.
In this regard, the first words of the Murcian walker were thankful: "I would like to thank José Luis Mendoza and UCAM for the support I've always had. We've been working together for many years and we still have a lot of challenges ahead of us. I feel supported and loved. I hope I will keep on winning for Spain, for Murcia and for UCAM". With the gold medal in the European and the World Championships in his pocket, the next challenge for Miguel Ángel López is the Olympics, during which he could complete his Triple Crown. He brought forward that "next year, I will focus on Rio 2016 and, if needed, we will sacrifice all the other events. The whole preparation is going to be allocated to achieve the best performance possible there".
As for José Luis Mendoza, he wanted to highlight the figure of Miguel Ángel López, student in the Bachelor of Physical Activity and Sport Sciences at UCAM, as a clear example of the work done at the university: "Miguel Ángel is an example for us through his attitude and behaviour. He works with humility, he works with simplicity, he trains very hard and he studies, which is very important". As far as the Olympics are concerned, UCAM's president said that "he's already Europe and World champion and now, the Olympics Games are coming. We know it will be very hard but if there is someone with the mental and physical conditions to achieve such success, it is Miguel Ángel López". 
Image: Miguel Ángel López strikes a pose with José Luis Mendoza (UCAM's president) and Juanma Molina, former Olympic race walker (medals in World and European championships) and currently teacher at UCAM and president of the Athletics Foundation of the Region of Murcia.