High Performance Sport Center of La Manga Club-UCAM is now a reality
The Center will offer its facilities to elite sports teams who pass through La Manga Club, as well as to tourists, amateur athletes and anyone who wishes to experience the facilities on offer.
24 November 2014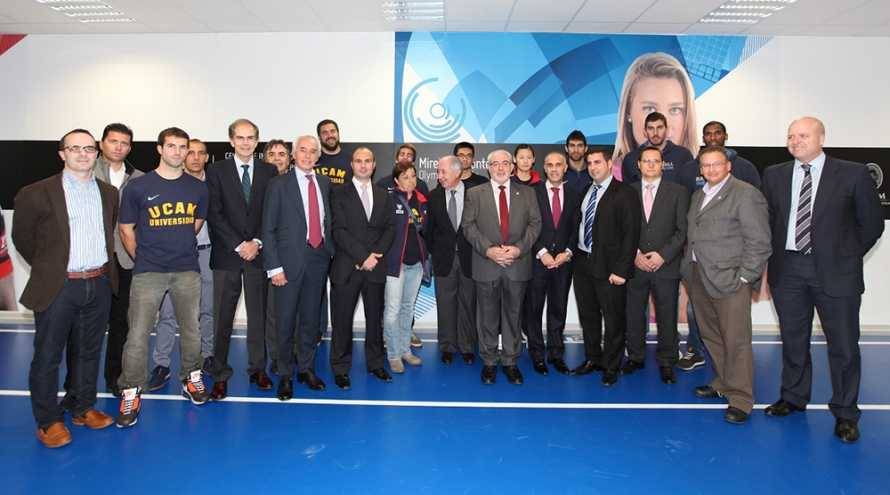 La Manga Club and the Catholic University of San Antonio de Murcia have teamed up once again in a new project which merges the main principles of both institutions: internationalization, sport and high quality. The center for High Perfomance Sport of La Manga Club-UCAM is the result of a joint effort which places the Region of Murcia at the forefront of scientific and sporting research at a national level.
José Asenjo, CEO of La Manga Club, and José Luis Mendoza, Presindet of the UCAM, headed the inaguration of the new Center and outlined the implications of this achievement. Mr. Asenjo said "the project is to investigate and calculate the perfomance of elite and amateur athletes as well as of people who practise sport in general. This Center will serve as a point of reference not only for the Region of Murcia but further afield". For his part, the president of the UCAM wanted to highlight that "this relationship between la Manga Club and the UCAM will allow us to carry out tests which are fundamental to athletes and to all those who require these services. It is important to carry out tests in order to prevent sudden death and work towards lessening the incidence of injuries".
Pedro Emilio Alcaraz, director of the Center for High Perfomance Sport, summarised his global vision for the new facilities: "We have a multidisciplinary team with great potential, incorporating cardiologists, specialists in biomechanics, nutrition and physiology with the aim to evaluate and prevent injuries and to measure the perfomance of professional athletes and those who practise sports for fun".
A large representation of UCAM sports teams and athletes associated with La Manga Club atended the presentation, as well as relevant directors and managers from both institutions. Athletes included Javier Hernandez (UCAM Murcia CF), Thomas Kelati & José Ángel Antelo (UCAM Murcia CB), Sete Benavides (canoeist), Borja Vivas (shot put), Eusebio Cáceres (long jump), María Xiao y Lei Kow (UCAM Cartagena Table Tennis), Luis Pasamontes and Carlos Coloma (MMR Bike Pro Team).
This Center is aimed at high calibre athletes who train in the facilities of La Manga Club, tourists who annually choose this resort for their holidays, and members of the public who pass through these facilities. It uses the latest technology so that atheletes can improve their results. It is divided in different áreas such as Sports Training, Sports Medicine (for the prevention of cardiovascular and musco-skeletal problems), Biomechanics, Nutrition, Rehabilitation, Orthopedics, etc.
La Manga Club and the UCAM join forces in a project that blends the values of these two institutions to provide data of performance of athletes and trainers in order to help them keep track of their training methods and prevent injuries.

 Aditionally, it attempts to be an international leader in sporting rehabilitation. The rehabilitation program centres its professional activity in two main areas: rehabilitation and prevention of injuries. This program will be developed by specialists from CIARD La Manga Club-UCAM to help athletes of all levels and calibres to reach their personal goal. For more information about the High Perfomance Sports Center please see www.ucam.edu/lmc