Fifty of UCAM's athletes might participate to the Olympic Games of Rio
Several participated yesterday to the conference organized between UCAM and the Spanish Olympic Committee (COE)
24 November 2015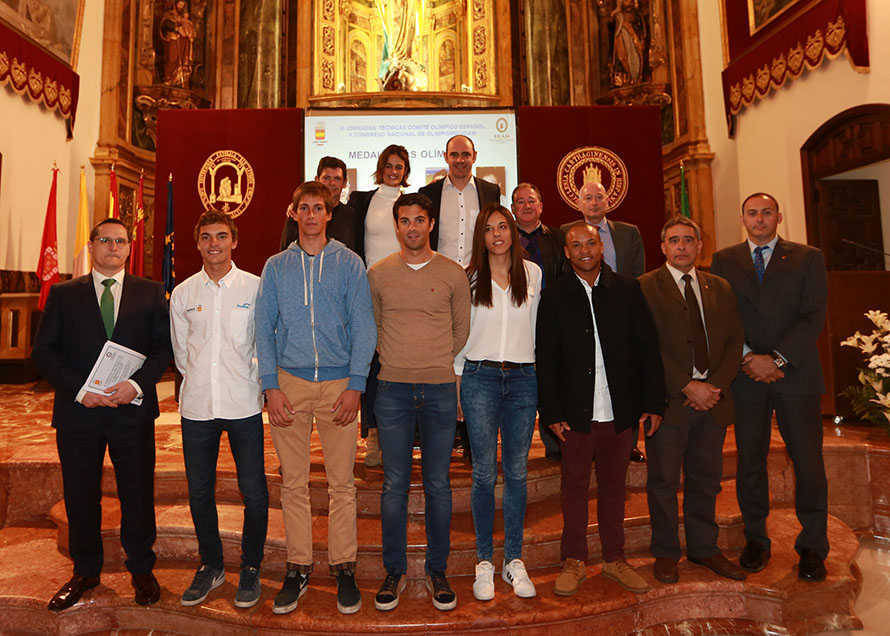 The Catholic University of Murcia, counting in its sport teams about 80 elite athletes, aims to see close to fifty of its elements integrating the Spanish Olympic team in the next Olympic Games of Rio'16. Some of them, such as Miguel Ángel López (athletics) o Eva Cavlo (taekwondo), who participated yesterday to the Olympic Congress, are already qualified. Others, the majority, such as Mireia Belmonte (swimming), Paco Cubelos (canoeing) or Borja Vivas (athletics), will have to win their spot in the next weeks. And others, such as basketball players Augusto Lima and Facundo Campazzo, will depend on their selection's calls, that already are qualified.
This qualification process for the Olympics is special to UCAM since it's not only about sponsored athletes. In lots of cases, they are actual students. Thanks to a unique and dual system, athletes, together with their tutors, are planning to coordinate their studies with their career in this very special Olympic year. The swimmers Mireia Belmonte and Duane da Rocha (Bachelor's Degree in Advertising and Public Relations), the canoeist Javier Hernanz (Bachelor's Degree in Law), the synchronized swimmer Clara Camacho (Bachelor's Degree in Psychology) or the athlete Miguel Ángel López (Bachelor's Degree in Physical Activity and Sport Sciences) are only a few examples of the UCAM's students attending the Olympics.
Olympic Congress COE-UCAM "Road to Rio"
The VI COE Technical Seminars – V UCAM Olympic Congress 'Road to Rio' gathered together the past, the present and the future of the Spanish sport with backdrop of the upcoming Olympic Games. Athletes that already know what it feels like to win an Olympic medal and youths aspiring to get one in Brazil shared their experiences and dreams with the audience of the congress. 
José Luis Mendoza, UCAM's president, and Alejandro Blanco, president of the Spanish Olympic Committee, inaugurated the seminar by reminding the close alliance between the two institutions, which enabled numerous athletes to combine their studies with trainings and competitions. "We hope that the majority of Spanish athletes, many of them UCAM's students, will get to be in Rio de Janeiro. Thanks to Alejandro Blanco, the collaboration between UCAM and the COE is made possible and this allows lots of athletes aspiring to get medal to also pursue their studies with us", noted José Luis Mendoza.
Alejandro Blanco, with 2016 already in mind, did not hide his hope for next summer meeting: "We are already thinking about the Olympic year. Teams and athletes are already getting qualified and until March or April, we won't know most of the athletes who will go to Rio. Qualification happen later in some discipline or teams that have to play pre-Olympics but everything is going well. In comparison to others Olympic cycle, we are well positioned and optimistic".
The opening conference was given by Ricardo Leiva, director of Sports of the Spanish Olympic Committee, who detailed what does a qualification for the Games means for athletes, federations and for the COE.
José Javier Hombrados (handball – 2 Olympic medals); Joan Llaneras (track cycling – 4 Olympic medals); Thaïs Henríquez (synchronized swimming – 2 Olympic medals); and José Antonio Carrillo (racewalking coach of the Olympic athletes Fernando Vázquez, Juanma Molina, Benjamín Sánchez y Miguel Ángel López) participated to the first round table. Thanks to them, the audience discovered the importance of competing and living the Olympic Games has for all athletes. Hombrados, who has been to Atlanta'96, Athens'04, Beijing'08 and London'12, summarized it in one and only sentence: "Olympic Games are the experience of a lifetime". But Thaïs Henríquez stressed that, beside the incredible experience, there is also a very heavy pressure on the athlete: "you have to accept the commitment and dedication to medals, even more in a sport like synchronized swimming where every millimetres counts".
In the second round table participated young athletes aspiring to get a medal in Rio. Miguel Ángel López, European and World champion in 20km race walking, was the only one who has been in London'12, and therefore knew what to expect from the event: "The Olympic Village and the whole atmosphere of the Olympic Games is different from any other sport event". Eva Calvo (Taekwondo), Rayderley Zapata (artistic gymnastics) and the athletes Joan Herp and Jordi Xammar, already qualified, also talked about their dreams and about what they hope to find in Brazil. Zapata, who has the dual Spanish-Dominican nationality, didn't let room for any doubt about which country he will compete for: "I will always compete for Spain for all it gave to me, even if I also feel Dominican. In Rio, I dream to be among the bests and fight for medals but I am conscious that, in my discipline, a false step can ruin everything".
Photo Gallery of the COE-UCAM Olympic Congress