"Club, team and fans must work together, be strong and challenging"
Fotis Katsikaris has officially been presented as UCAM Murcia CB's new coach
23 July 2015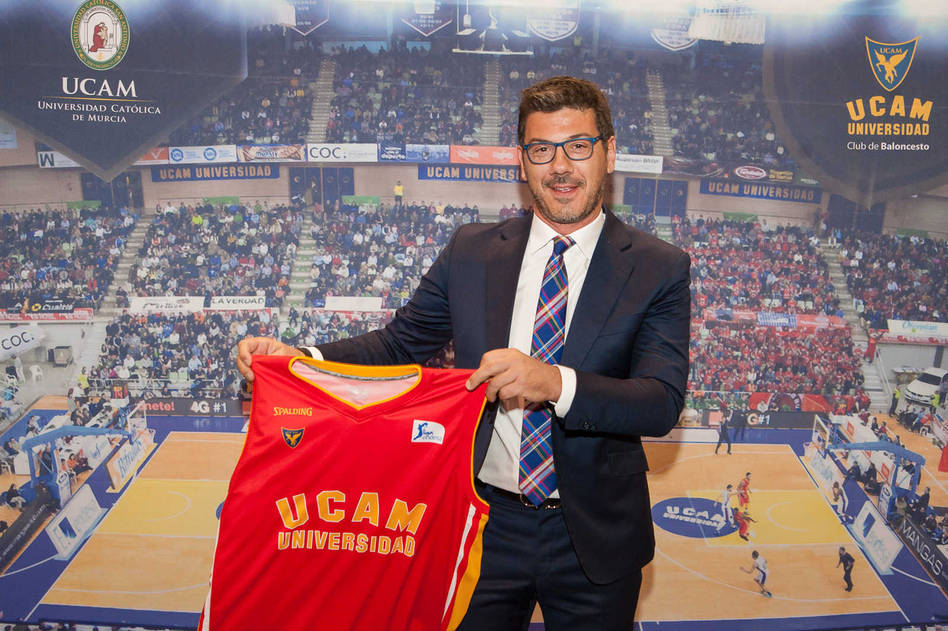 UCAM Sports Center was full to the brim when Fotis Katsikaris was introduced as UCAM Murcia CB's new coach for the 2015-16 Liga Endesa season, yesterday.
The Greek coach, who will take charge of the club once his obligations with the Greek team in Eurobasket are over, received a warm welcome from UCAM's president, José Luis Mendoza. "It is a huge pleasure to have you among us, Fotis. It is a great day for UCAM, the Sports University. We wish you triumphs and great success", greeted the president. 
Likewise, the Greek coach has ensured that he was "pleased to be here, as part of the Liga Endesa which I know very well. We have to create a cheerful atmosphere for the moments we are going to spend together. We have to be rigorous and we will not set any limits", Katsikaris explained that he believes in "a triptych: club, team and fans; the three of which have to be united, stand strong, and accomplish the most important tasks in order to achieve our goals". For the coach, UCAM Murcia CB is "a club with plenty of hope and potential and this is very important to me at this time of my decision-making. We want to grow. The Liga Endesa is very complicated, it is like a marathon" indicated Katsikaris, who reminded the Sports center that "we have to be humble, but I am convinced that we will do it very well".
This event also served to introduce Katsikaris' assistants for this season: Josh Fisher and Francis Sánchez. "They are people with formidable knowledge and I am very happy about that. I have been through the same situation, progressing from player to assistant. We are going to create a good chemistry and they can help us lay the foundations we need to be competitive", commented the coach.