Alejandro Valverde, UCI World Tour n.1: "as a Murcian, it is a pride to see how UCAM supports Spanish sport"
The Catholic University of Murcia and the Spanish Olympic Committee strengthen their alliance with the addition of twenty new athletes in their sport and formation project
14 October 2015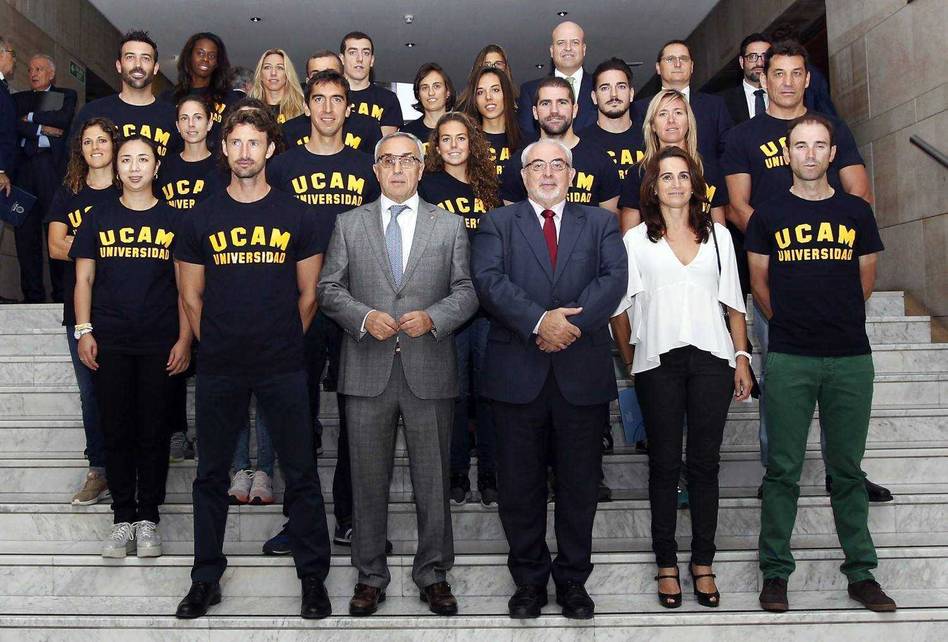 The alliance formed by the Catholic University of Murcia (UCAM) and the Spanish Olympic Committee (COE) strengthens with the addition of twenty athletes to their project, which has as only objective to help athletes to focus on their practices and competitions without having to leave higher education studies aside. UCAM's model, already imitated in the European Union, enables top-level athletes to keep on studying through personalized tutorials, in order for them to have a superior formation and a degree to integrate the labour market at the end of their career.
The introduced athletes were the following: Aauri Bokesa, Diana Martín, Arturo Casado y Mar Jover (athletics); Eva Calvo (taekwondo); Gisela Pulido (kite surf); Juan Carlos Ferrero (tennis); Alejandro Valverde (cycling); Jennifer Miranda y José Ortega Chumilla (boxing); Artemi Gavezou (rhythmic gymnastics); Clara Camacho (synchronized swimming); Elías Cuesta (archery); Yanfei Shen (table tennis); Fernando Castro, Ainhoa Murua y David Castro (triathlon); Teresa Nimes (ultra running); José Luis Abajo 'Pirri' (fencing); y Damián Quintero (karate).
During the presentation, Alejandro Blanco, COE's president, highlighted the importance the ensure the future of the Spanish athletes, in order for them to represent their countries in international meetings without having the pressure to think about the future: "A lot of countries around the world know Spain for its sports and its athletes". Directly addressing to the athletes, he told them "you are competing for Spain and we, the Spanish Olympic Committee and UCAM, want to help you".
José Luiz Mendoza, president of UCAM, thanked the COE and the athletes for "the example you are setting for society. In life, one has to fight to overcome the difficulties coming up, and that is why sport has a role model for all". Moreover, he emphasized that UCAM's path is also directed to "support the research in the field of health and sport. This is one of the main objectives of our university". 
Alejandro Valverde, recently back from Abu Dhabi where he received his first prize as number one of the UCI World Tour 2015, acted as spokesman of the athletes. In his speech, he wished to emphasize on the work of UCAM: "As a Murcian, it is a real pride that a university of my own region supports Spanish Sports as such".
The amount of athletes taking part in UCAM-COE's project keeps on growing. It already counted with more than fifty Olympic athletes, among who Mireia Belmonte (swimming), Nico Almargo (tennis), Saúl Craviotto (canoeing) or Miguel Ángel López (athletics).