Duration
2 academic years
Fee
€3.500/ EU Citizens
€4.550/ Non-EU Citizens
School
Faculty of Health Sciences
Greetings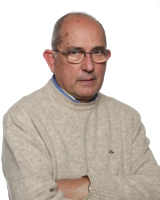 D. Enrique Santo Medina
Director of the Master in Geriatrics and Gerontology
Some years ago, when we read some scientific reports on geriatrics, we came across sentences like…"the degree of aging in the population is an unquestionable fact…" in the preamble. World present demographic evolution has confirmed and even exceeded widely this hypothesis.Spanish people are the oldest in the world, our life expectancy goes over 80 years for men and 84 for women (World population Prospect: The 2004 Revision Highlight, UN, New York, 2005).
Besides that, our old population is more than 3.500.000 individuals (rate of living higher than 17%), and if this tendency does not change, it will be higher in the future.The modifications in the society involving this "aging", affect all spheres: economy, market, familiar and inter-personal relationships, free-time and culture, and those affecting more directly, those related to integral health.
Has our academic education been enough to pay attention to this bigger and bigger age bracket? I would rather say, no, since gerontology and geriatrics, as disciplines that encompass the study of normal and pathological aging, were not present some years ago in the university degrees in the field of health science in Spain, as well as the postgraduate education, and where these two disciplines up to now have had little scope.Before this reality, it is the country government and its own idea: "the welfare state…" where health services are a collective asset and the attention a non-waived right, what leads to legislation in this sense and to enact the Long-term care law (Ley 39/2006).
The development of this one is a challenge both for the services of attention to long-term care people and for the administrations and those rendering special public or private service.
In short, we must respond in the most immediate way, since we need more and more specialized professionals,(in Spain, in the near future over 600.000). The different State Health Administrations and Social Services, Autonomic and Municipal, Social Organizations and those of the Third Sector will be in charge of taking on these professionals, trained and able to undertake and take part in the care and attention to the elderly and long-term care people and facilitate the equipment and most suitable program for each situation and need.
The first Master's degree in Geriatrics and Gerontology, aimed at the integral attention to our elderly, took place for the first time in the academic courses 2002-2004 in this university. It is important to highlight that all those who finished that first Master's degree are at present working in old people's homes, Day Care Centers, Palliative Care, Home attention, etc.
Therefore, we consider necessary to follow this Master, aimed in this edition to "Long-term care attention" and its purpose is the integral education of those qualified professionals involved in it.