Mode
On Campus
Online
Duration
4 academic years
Fee
€2.500,20/ EU Citizens
€2860,26/ Non-EU Citizens
School
Faculty of Business and Legal Studies
Student Profile
Belonging to the field of Law and Business, the Degree in Tourism covers a wide range of knowledge (skills, competences, abilities and aspirations of the future students). It is advisable that students who choose our degree have a sensitivity to the environmental, social, cultural and economically sustainable development, ability to social relations and interpersonal contacts, capacity to communicate, reason and understand, analytical and negotiation skills, flexibility and critical sense, ability to adapt to changes, new situations and cultures.
Tourism is also an activity of solidarity, which directly or indirectly benefits us both economically and culturally. It is an open meeting of cultures and, therefore, people who decide to study the Degree in Tourism should be kind, cooperative, creative, enterprising and dynamic.
Greetings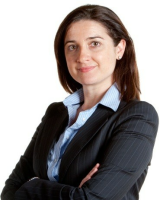 Dña. Ginesa Martínez del Vas
Director of the Degree in Tourism
The Degree in Tourism at the UCAM is an Official University Diploma whose syllabus is outlined in the Official State Gazette (in Spanish, BOE) no. 8, dated 10th December, 2010 and authorized in the Region of Murcia Official Gazette (in Spanish, BORM) no. 183, dated 30th July, 2010, decree 229/2010.Our syllabus is designed to professionally train students in the development of competitive models in the tourism sector related to Business Management, Tourism Planning and Commercialization and Hotel Management. Tourism is an activity that creates quality jobs, a stable economy and a sustained growth.It is taught in two ways: classroom-based and online learning, with the possibility of combining them in accordance with the students' needs. A degree that guarantees quality and individualized teaching, continuous assessment, adapted to new technologies and totally professional, with the possibility of an internship abroad.The Degree in Tourism at the UCAM, based on the principles of educational excellence promoted by the Bologna Process, faces globalization and methodological changes in University Education by providing students with a more solid education focused on the different career opportunities, opening the doors of the European market and offering students training in small groups.In this international framework, since November 2010 the UCAM has been a Member of the World Tourism Organization, the first in the Region of Murcia.