Mode
On Campus
 Online
Duration
4 academic years
Fee
€3.500/ EU Citizens
€4.550/ Non-EU Citizens
School
Polytechnic Faculty
Student Profile
Students who choose the Degree in Telecommunications Engineering should have some of the following skills:
High interest in new technologies.
Skills for Mathematics, Physics and Languages.
Spatial vision, practical and methodical sense.
Capacity for observation and attention.
Creativity.
Effort capacity.
Teamwork.
Greetings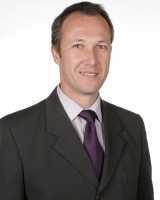 D. Rafael Melendreras Ruiz
Director of Telecommunication Engineering
The professional role currently played by telecommunications engineers is absolutely essential for the so-called Information and Knowledge Society.Telecommunications are a key element of the Information Society, facilitating access and information exchange between people, machines, systems and institutions. It is impossible to understand the current social and economic progress without taking into account the increasingly sophisticated communications networks, which also give rise to a phenomenon of such social importance as ubiquitous communication (e.g. Internet), one of the main characteristics of the current society. In the future, telecommunications engineers will play a key role for the running of all institutions, both as an internal worker or as a part of companies that offer advanced communications services and digital content.
The Information Society is based on potential technologies which are essential due to the existing and rapidly growing variety of technologies and the number of continuously emerging new technologies. These technologies, whether mature or emerging, require the development of a growing number of services and digital content, necessary to develop and market. It is a business in continuous expansion, a pillar for the Information Society. Innovation happens to be a mainstay in this field.
If satellite communications, mobile telephony, cable networks and optical fiber, acoustics, home automation, radio and digital television, renewable energies, working in large multidisciplinary projects, the implementation of new technologies appeal you, come to the UCAM to study the Degree in Telecommunications Engineering.