Mode
On Campus
Online
Duration
4 academic years
Fee
€3.996/ EU Citizens
€5.194,8/ Non-EU Citizens
School
Polytechnic Faculty
Student Profile
Companies must be prepared to include the necessary innovations in their computer systems in order to provide the services required by the so-called Knowledge Society, without losing the level of reliability and strength that should be beyond doubt. Therefore, it becomes necessary to find trained professionals.
This area of knowledge defines the skills, competences, abilities and aspirations of the future students of the Degree in Computer Engineering.
Students who choose the Degree in Computer Engineering should have attention and perception skills, capacity for analysis and synthesis, logical reasoning, numerical skills, gift for abstraction, willingness to research and scientific events, and interest in new technologies.
It is advisable that students who choose our degree have ability to social relations and interpersonal contacts, capacity to communicate, reason and understand, analytical and negotiation skills, flexibility and critical sense.
Interests: scientific, technological and humanistic.
Skills:
Capacity for analysis and synthesis.
Capacity for problem-solving and decision-making.
Ability to teamwork and interpersonal relations.
Critical thinking.
Ability to adapt to new situations.
Creativity. Initiative and enterprising spirit. Ability to observation and systematic listening. Curiosity.
Attitudes: Responsibility. Perseverance. Observation, communication and listening. Searching for answers through self-learning.
Greetings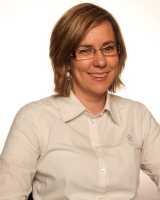 Dña. Belén López Ayuso
Director of Computer Engineering
The Degree in Computer Engineering has been designed according to the guidelines set by the European Higher Education Area (EHEA) and it is offered in four years simultaneously.In this way we facilitate the adaptation of the current technical engineers to the new academic and professional framework resulted from the Bologna Process.The Degree in Computer Engineering at the UCAM is an Official University Diploma whose syllabus is outlined in the Official State Gazette (in Spanish, BOE), dated 26th September, 2008.The Degree in Computer Engineering at the UCAM aims to train professionals with a broad scientific and technical knowledge from a humanistic point of view. For this reason, our graduates are prepared to face the professional challenges and the constant changes of the field of Information Technology and Communications (ITC).
It is clear and evident that Information Technologies and Communications (ITC) are part of our society. Production and management of many companies depend on information technology which should be reliable and strong.It is necessary to find professionals who are able to manage new technologies, make decisions that affect more and more the organization's strategy and work in team in order to achieve common goals. We have done our best.
We fit our students' needs and for this reason we have incorporated the online learning.