Duration
4 academic years
Fee
€3.500,4/ EU Citizens
€4.375,5/ Non-EU Citizens
School
Faculty of Social Sciences and Communications
Student Profile
What are the necessary skills for the future students of Audiovisual Communication?
Concern about knowing and doing research into current events and the future of the audiovisual communication.
Creative sensitivity and imagination.
Willingness to use new information and communication technologies.
Capacity to join and adapt to a professional team as well as ability to work in group responsibly.
If students have some of these skills and aren't afraid of working, they will take advantage and enjoy the Degree.
Skills: Ability to observation, ability to self-observation, ability to oral communication, research skills, capacity for analysis and criticism, good social skills.
Attitudes: Responsibility, cordiality respect, empathy.
Greetings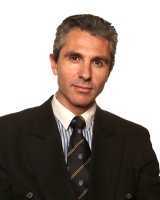 D. Pablo S. Blesa
Dean of the Faculty of Social Sciences and Communication
UCAM offers by means of the Degree in Audiovisual Communication a four-year training program which includes theoretical and practical knowledge and, in general, the skills of a professional in audiovisual communication in the XXI century.Our Degree in Audiovisual Communication is fully adapted to the European Higher Education Area.This University is one of the first private institutions in Spain to implement it.Audiovisual Communication studies at the UCAM are both classroom-based and blended learning. The last one is an option for those who develop other activities and don't have enough time to attend all lessons.