Duration
4 academic years
Fee
€4.200/ EU Citizens
€5.460/ Non-EU Citizens
School
Faculty of Social Sciences and Communications
Student Profile
These studies are aimed at those future students who show a great curiosity about what happens around them and creative and imaginative students.
Curious, creative and imaginative students because from the knowledge they will be able to apply solutions that mean a differentiating value for their future companies.
Moreover, students should be interested in the study of man as an individual and his environment.
It is advisable that students who choose the Degree in Advertising and Public Relations should have a social sensitivity, ability to social relations and interpersonal contacts, capacity to communicate, reason and understand, adaptability, analytical and negotiation skills, flexibility and critical sense.
Greetings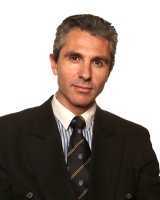 D. Pablo S. Blesa
Dean of the Faculty of Social Sciences and Communication
The Degree in Advertising and Public Relations aims to train persuasive communication professionals in different fields: Creative Advertising, Image Consulting, Communications Management, Sales Promotion, Media Planning and Research, Institutional Relations, Customer Relationship Management, among others.The development of new advertising media closely related to the new interactive communication technologies, the beginning of new forms of persuasive communication in unconventional media (place marketing, viral marketing, street marketing, events, social networks…), and the recent needs of organizations related to the management of communications and relations with all their publics are factors that have deeply marked the processes of production and distribution of contents of the media, and the conception and exercise of public relations and advertising.The Degree in Advertising and Public Relations at the UCAM is also intended to show students that this sector is not only made up by advertising agencies, but also by Business, Institutional and Public Relations Communication. The rate of employment of graduates in this degree is notably high (over 85%) even from the first class (1997-2001), since, on the one hand, until this year it has been the only complete degree in our Region and, on the other hand, the professional sector has steadily increased during this decade.Future prospects are also encouraging: the awarding of new radio frequencies, the creation of the City of Digital Contents, the increasing proliferation of press offices and the constant initiatives related to interactive and digital fields offer new job opportunities for future graduates.In short, we aim to train individuals qualified to work in the current environment of Social Persuasive Communication with integrity and ethics, without detriment to the development of their professional work, but without forgetting the importance of their actions and their moral implications.